***Scroll down for day to day resources*
Look at all the amazing home learning taking place...
***Click here to see previous Daily messages from Mrs Scott***
Daily message from Mrs Scott:
Thursday 2nd April 2020:
Good Morning Priory. Just a reminder that the day to day resources (below) are a suggestion only; you do not have to do them all or in a particular order. They are there as support if and when you might need them. Your challenge for today is to help your parent with a home task. This could be: loading the laundry, doing the dishes, making lunch, putting away the dishes and so on. I'm sure your parents would appreciate some extra help.
*Be safe, be kind, be respectful and be your best.*
Mrs Scott
New Resource: We now have access codes for a great site: Active Learn. I have allocated Priory with lots of reading texts to support their reading at home. If you would like your child's codes please email me. (Email below) This is free for you to use and automatically allows the children to progress through levels.
You can contact me on:
anna.scott@stmarysprimaryportbury.org during working hours - I'd love to see pictures (for safeguarding purposes - not of the children), comments, book reviews etc. *Please email from an adult's account*
Dog Diaries:
***Click here to see previous Dog Diaries.***
Below you will find a comparison photo of Rayla from when she was 4 and 1/2 weeks old to now: 18 weeks old. I can't believe how much she has grown! We took her home at 8 and 1/2 weeks old, and after week 1 she learnt to confidently climb up and down the stairs (we immediately ordered a stair gate), another week later and Rayla could jump on and off the sofa (we immediately placed old blankets down) and jump to now, where she can stretch her whole body to reach the very back of all the kitchen counters. This photo really shows her growth. And she still has lots of growing to do!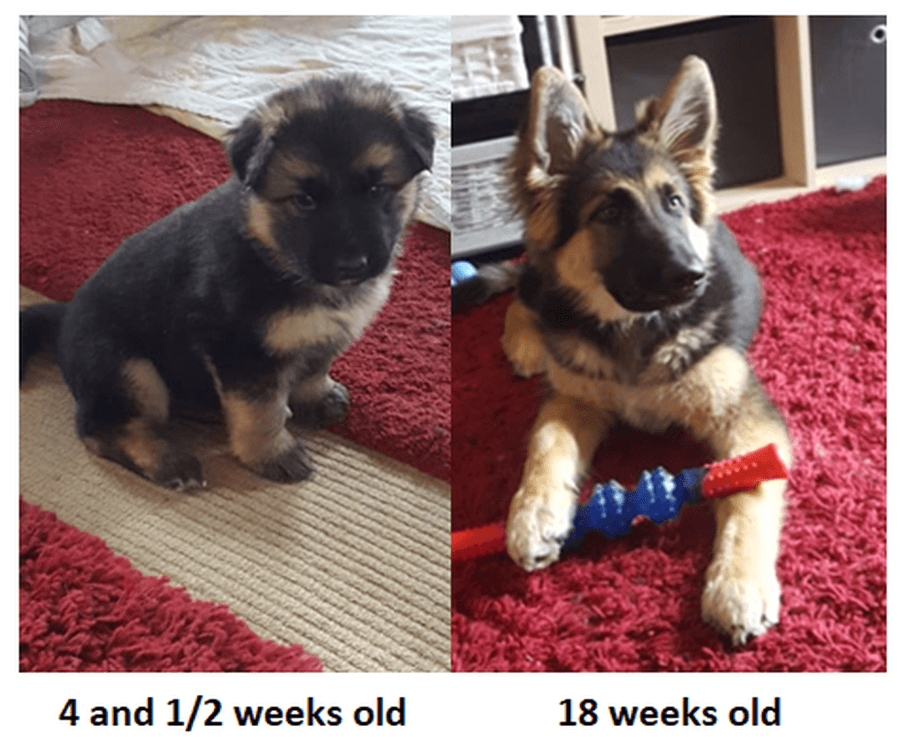 Day to Day resources for Home Learning:
These are suggested and would help support children to continue their learning out of school. See the suggested timetable (found clearly labelled near the top of this page) for an idea on how to implement each resource.
Let me know if you still require work from WB 23.03.2020 via email and I can send them to you.
Daily Brain Workouts: Week Beginning: 30.03.2020:
Click a day below for a Daily Brain Workout - This includes: 10 Mixed-up Maths questions; 1 math reasoning question; 5 daily spellings; a short grammar quiz. ***Similar to what we have done in class all year***
Maths: Week Beginning: 30.03.2020: Click a day to download that day's maths activities (including answers)
Keep Scrolling down the webpage for even more Maths resources.
Literacy: Week Beginning: 30.03.2020:
Keep Scrolling down the webpage for even more Literacy resources.