Friday 5th June
What a surreal day - We learnt all about surrealism! We learnt about surrealist artists and looked at some of their artwork. We practised different ways to create surrealist art. We listened to some surreal music which inspired us with our doodle drawings. We also created surreal landscapes using different materials. Finally, we selected 3 familiar objects and tried to merge them together to create a surreal object/character.
Thursday 4th June
We started the day with some 'Betsy Banana Yoga.' Some of the poses were quite tricky but we did a great job. We also had a circle time and discussed what being fair is and what equality means. We learnt about Rosa Parks and we did some drama activities to imagine what it must have felt like to be her. We also wrote some diary entries to explore more of her feelings. Before lunch we explored the conservation area. The grass was so tall that it was a fantastic opportunity to have a game of hide and seek. After a lovely lunch we were inspired by the art named 'Pittsburgh Memory' created by Romare Bearden. We created our own pictures in the style of Bearden.
Wednesday 3rd June
Today was slightly cooler so we began the day with Joe Wicks. We then went into the Conservation Area to get some ideas to write a Senses poem. It was like a jungle! Mrs Sinclair forgot the camera but we can tell you the grass was taller than the children - it was very exciting.
We thought it was like Going on a Bear Hunt!
We collected things we could hear and see and smell or feel. After breaktime, we wrote our poems. We could present them any way we wanted to and write them in any shape.
Next we had lunch. In the afternoon, we completed our maths learning and looked at some poems as well as our own poems. What a talented bunch of poets we are!
Here is Sam's poem:
I can see
slow snails,
tall trees,
a dead mouse.
I can hear
noisy aeroplane,
swishy grass, talking children.
Tuesday 2nd June
Welcome back to Term 6. We hope you all enjoyed a restful week over half term.
Today we had 9 children in our key worker bubble. We started off with a Joe Wicks workout, but soon became tired due to the heat. We had a 'talk time' with Mrs Speed about changes we noticed around school and what changes will happen over the next week as we get ready for welcoming back Reception, Year 1 and Year 6 children.
We followed White Rose Maths for most of the children, and Bluebell children created a number line to 20 which we used to find out about odd and even numbers. We used Lego to help us.
After break, we thought about characteristics we have to offer our friends and created a superhero character for ourselves as well as a friend.
This afternoon we learnt about the 7 continents of the world, creating a large map outside which we then used to help us label a map. Isla J found out the name of the countries on each continent.
Finally, we created a rainbow using black paper, water and a few drops of clear nail polish.
Thursday 21st May
Today we read a few chapters from Tom Thumb and the Football Match on Oxford Owl. We thought about things in the classroom that might be useful for Tom; like a counter for a plate and a board rubber for a bed and lots of other imaginative ideas. We made tiny people from pipe cleaners and then made homes and play places for them. You can see our creations in the slideshow below.
This afternoon some of us painted the thumb pots we made a few weeks ago and the rest of us enjoyed exploring with paints. Spattering spots was very popular and messy!
We shared poems about food from Tasty Poems and took turns to read them to each other. We have some great readers in our group.
Wednesday 20th May
What a glorious day!
Mrs Ball had a bit of a shock when she saw children dressed as Disney princesses and others with funny hairstyles and make-up! What was going on? Apparently, today was break the rules day.
The morning was so lovely that we began with a playtime outside. Then we continued writing our stories about Wild Pets from yesterday and after break we did the White Rose maths just like you all did at home.
Today, lunch was outside on the field- another rule broken! Another fabulous spread from Zena.
In the afternoon we did some quiet drawing and explored water colour pencils and we all agreed that we enjoyed using them. They mix together to make lovely effects just like paint.
THEN!!!!! It was drenching time for Mrs Westerwijk who had agreed that the children could throw water all over her and they certainly did! A video will be on our YouTube channel soon so you are all welcome to see it.
Tuesday 19th May
Today flew by. Mrs Sinclair started the day with Joe Wicks. Is it just us or is it getting a little more challenging?! We felt quite tired after that.
We completed Maths and English tasks from the website, like all of you at home. We carried on our stories about Wild Pets. We had chickens having discos, rabbits escaping and ripping up toys and dogs having parties with badgers!
After a delicious lunch, we began our Art. We were learning how lines are used in Art and what sort of lines we can make to create different effects. We looked at works by Van Gogh and an artist we have had visiting in the past, Hannah Pontin. Their use of lines is very different and gets different effects.
We then drew something in the classroom (like a pencil pot or a fruit bowl) or something we could think of (like a cup cake) and used different lines to complete the picture, using pencil only. One person copied The Starry Night, by Vincent Van Gogh, using only a pencil, to use the patterns of lines that he used. The finished pictures are below and we thought they were stunning.
We finished the day with an obstacle course and tried to beat our own times.
Monday 18th May
Its been a lovely sunny day! We have spent so much time outside! We started our day with Maths and enjoyed a 'Nrich' activity , making different sized robots and calculating their height. In Literacy, we followed Hamilton Trust like many of you. We loved listening to 'Wild Animals' and had so many imaginative ideas about what these pets could get up to at night. We have begun planning our own story about a pet that becomes wild at night. We are looking forward to continuing these tomorrow.
Much of our afternoon was spent outside with Lynne. We have played so many games and sports today but we all really loved rounders on the field and of course gymnastics in the hall! We hope you have had a good Monday too!
Friday 15th May
We worked in different teams throughout the day to complete challenges. Everyone decided they wanted to raid the dressing up box to do Joe Wicks first thing. We had a go at White Rose - Friday Family Challenges and used almost all the mathematical operations to do them. Together we wrote a letter telling our families that we are having a 'Break the rules Day' next Wednesday (20th). You might like to join from home as well! We had to come up with the 'rules' first and there were lots of prank ideas shared.
After a delicious lunch, we created lava lamps in a Science investigation. We were fascinated watching the coloured bubbles move around the oil. In groups, Mrs Speed set us a time challenge to build the tallest and most stable tower using mini marshmallows and cocktail sticks. There was lots of discussion, trial and error to get to the end result. The tallest tower was 20 cm tall and the tower that stood upright for the longest was the widest tower.
The last activity of the day involved us getting rather messy...with more marshmallows! Mrs Speed melted marshmallows in the microwave before we mixed in Rice Krispies. Our task was to make a model with the mixture. To do this we had to smear butter over our hands so that we didn't end up quite so sticky! Finally, we decorated them with melted chocolate and rainbow sprinkles.
Have a lovely weekend St Mary's community!
Thursday 14th May
Today has flown by! We started our day with another dose of Joe Wicks to energise us. We followed our class pages for Maths and English and shared some stories. This afternoon we used Lego to create a map with a key before we hunted for animals using coordinates. Mrs Chapman helped us to make a feelings flour balloon. We drew a feelings face on the balloon and we can give it a squeeze to help us with our feelings. We did make a bit of a mess making them! Some of us found incredible daisies in the playground...or did we?
Wednesday 13th May
Today we started off with a cosmic yoga session! Lots of the children were incredibly flexible. It was a great way to start the day, We have also enjoyed a scavenger hunt in the conservation area, puppet making and learning about Andy Warhol.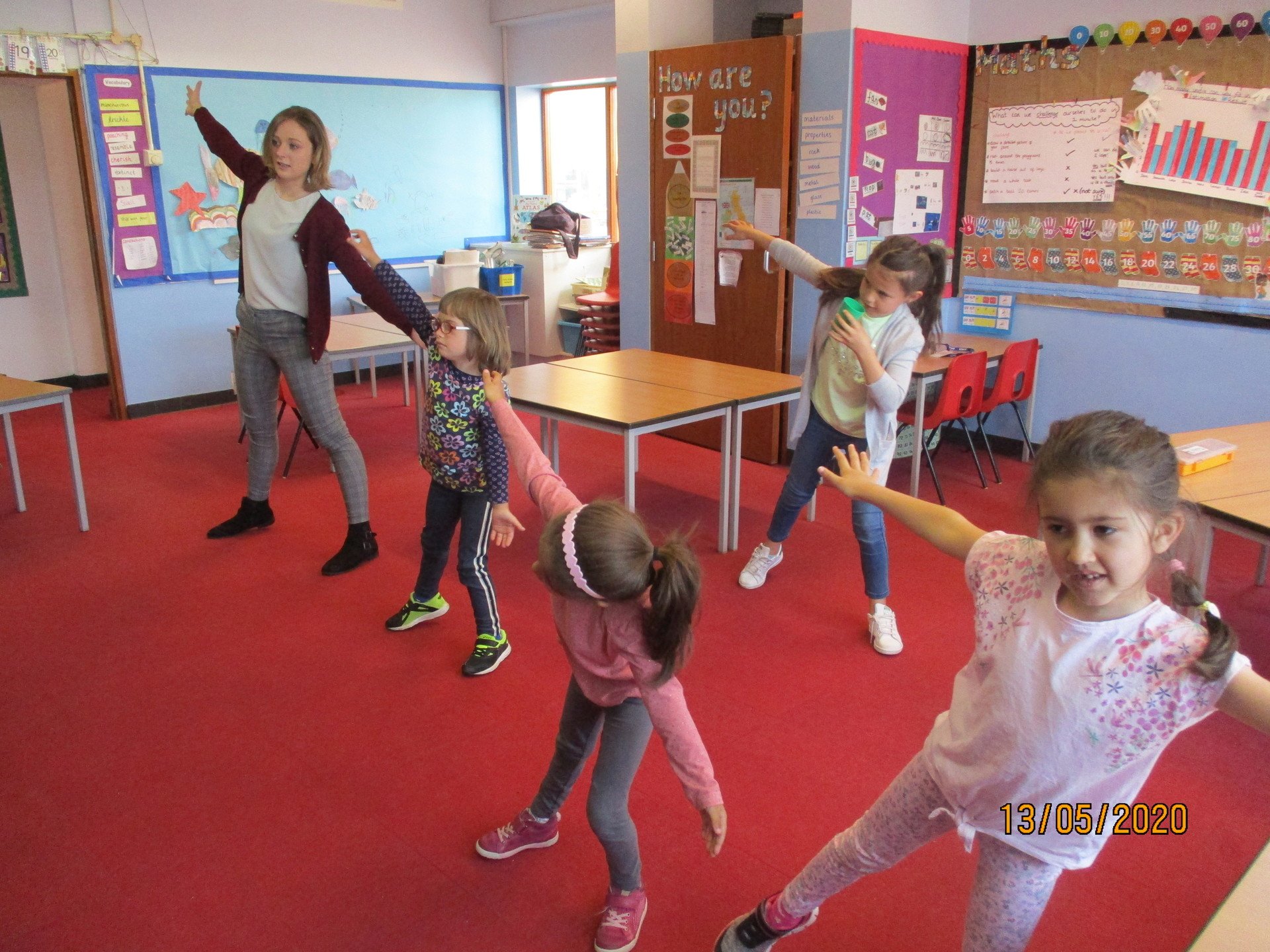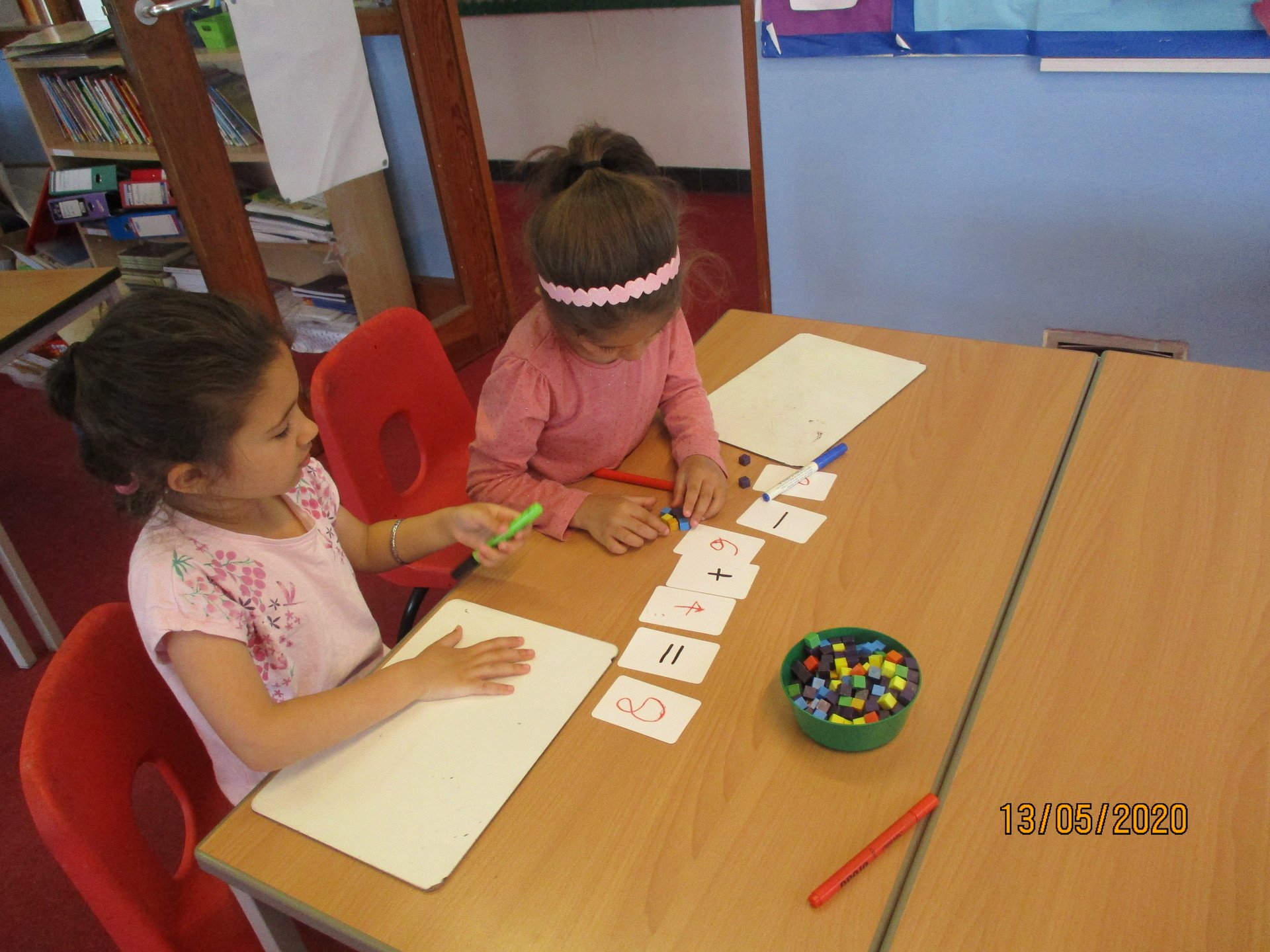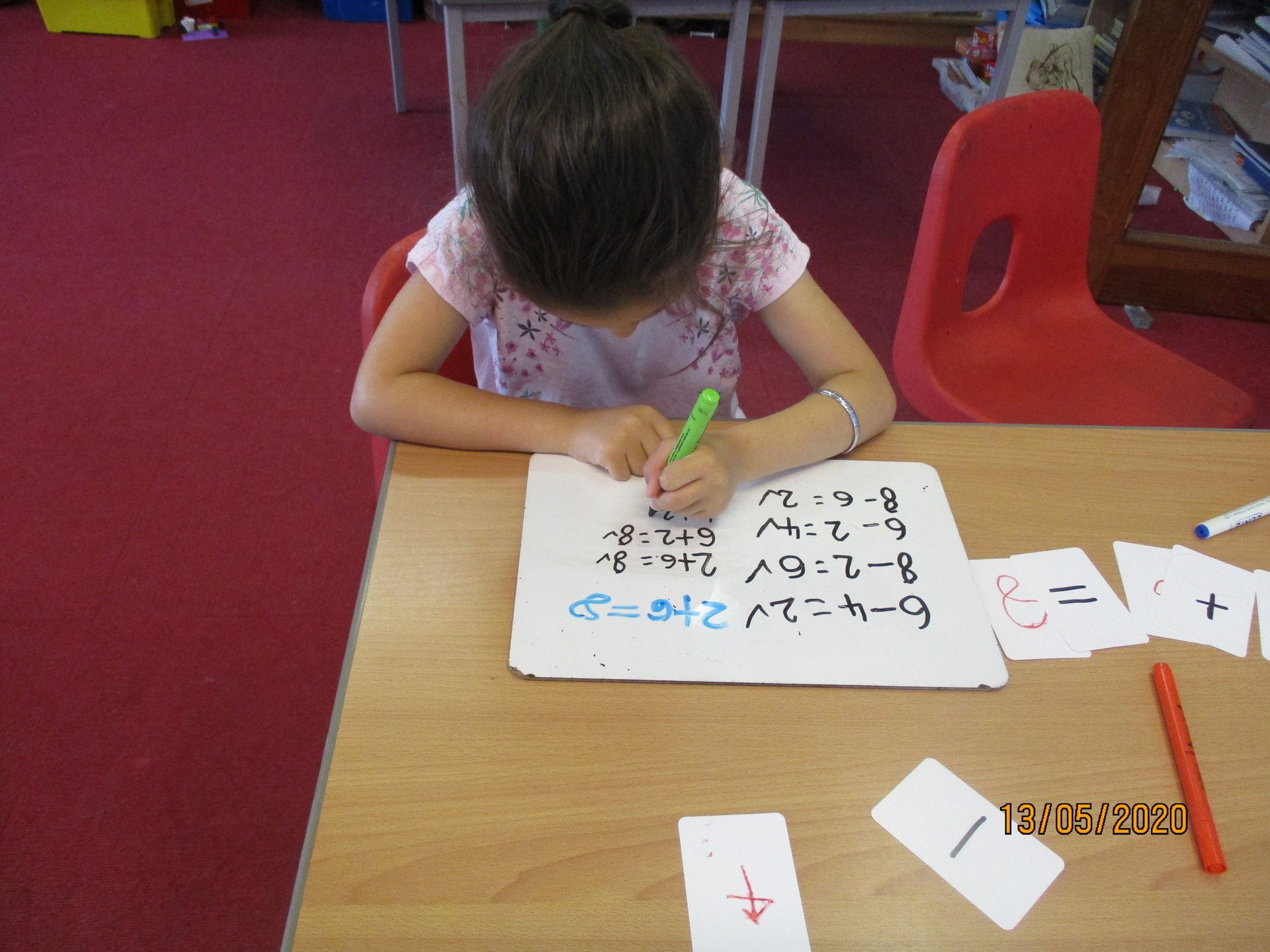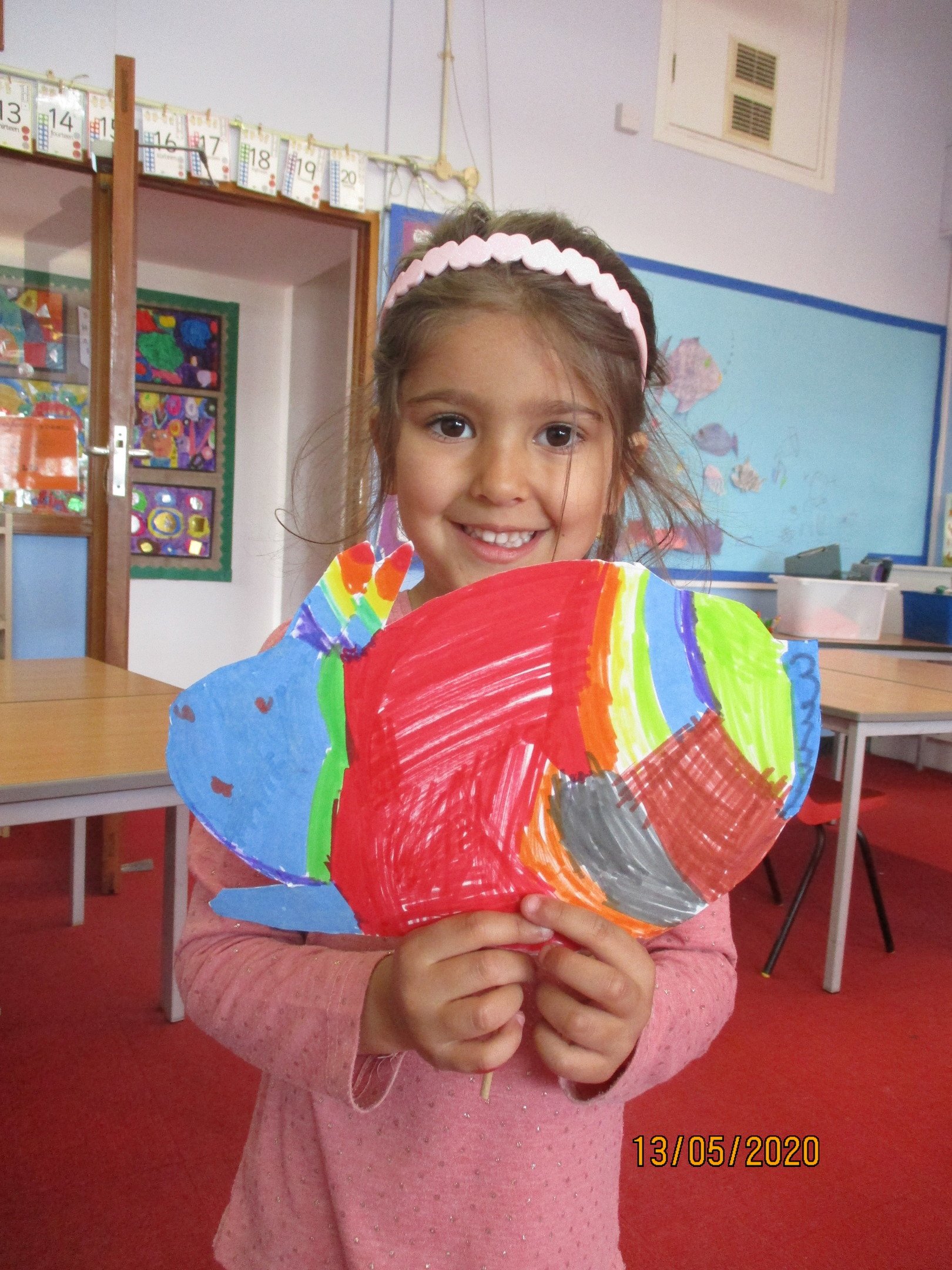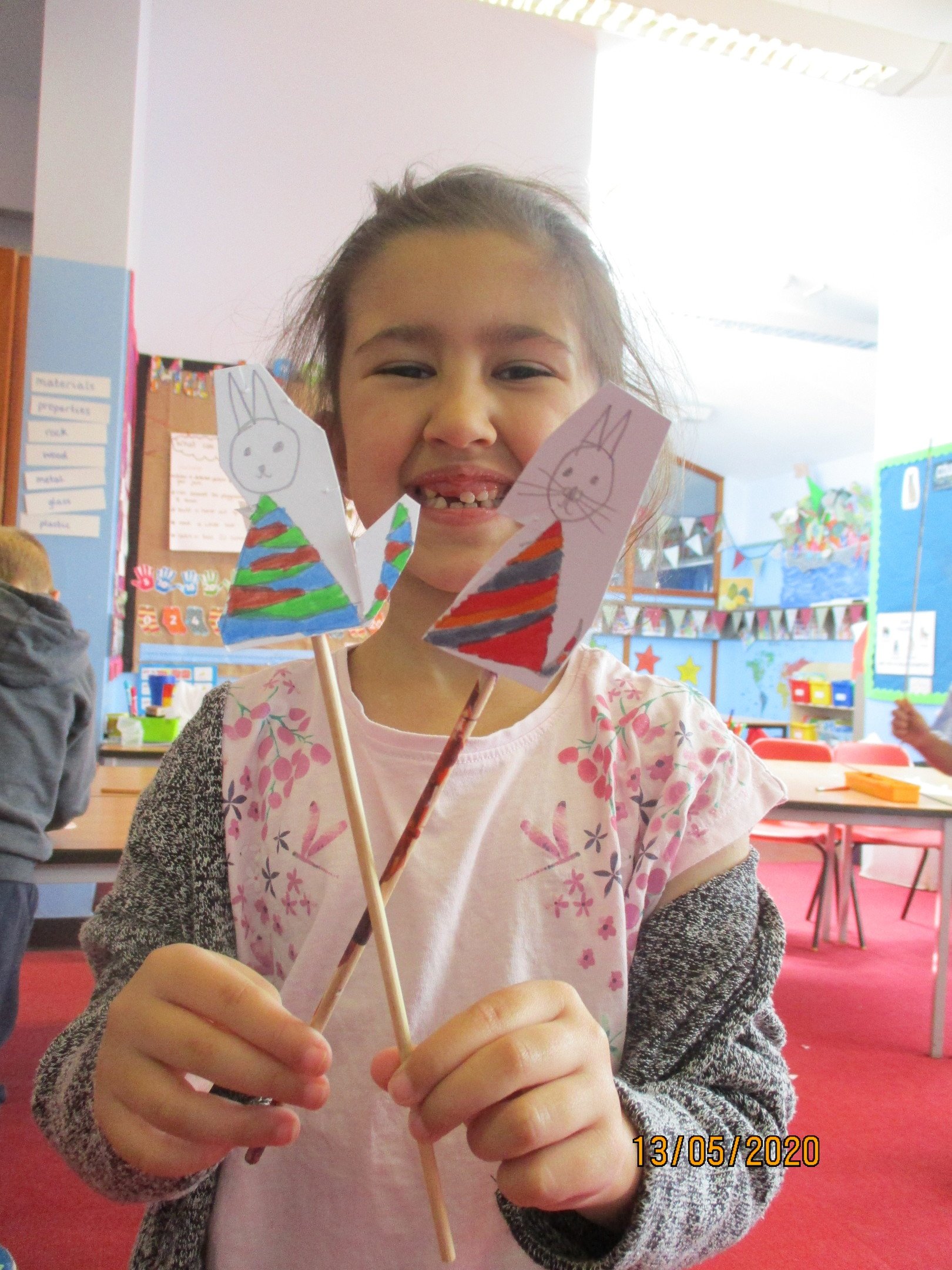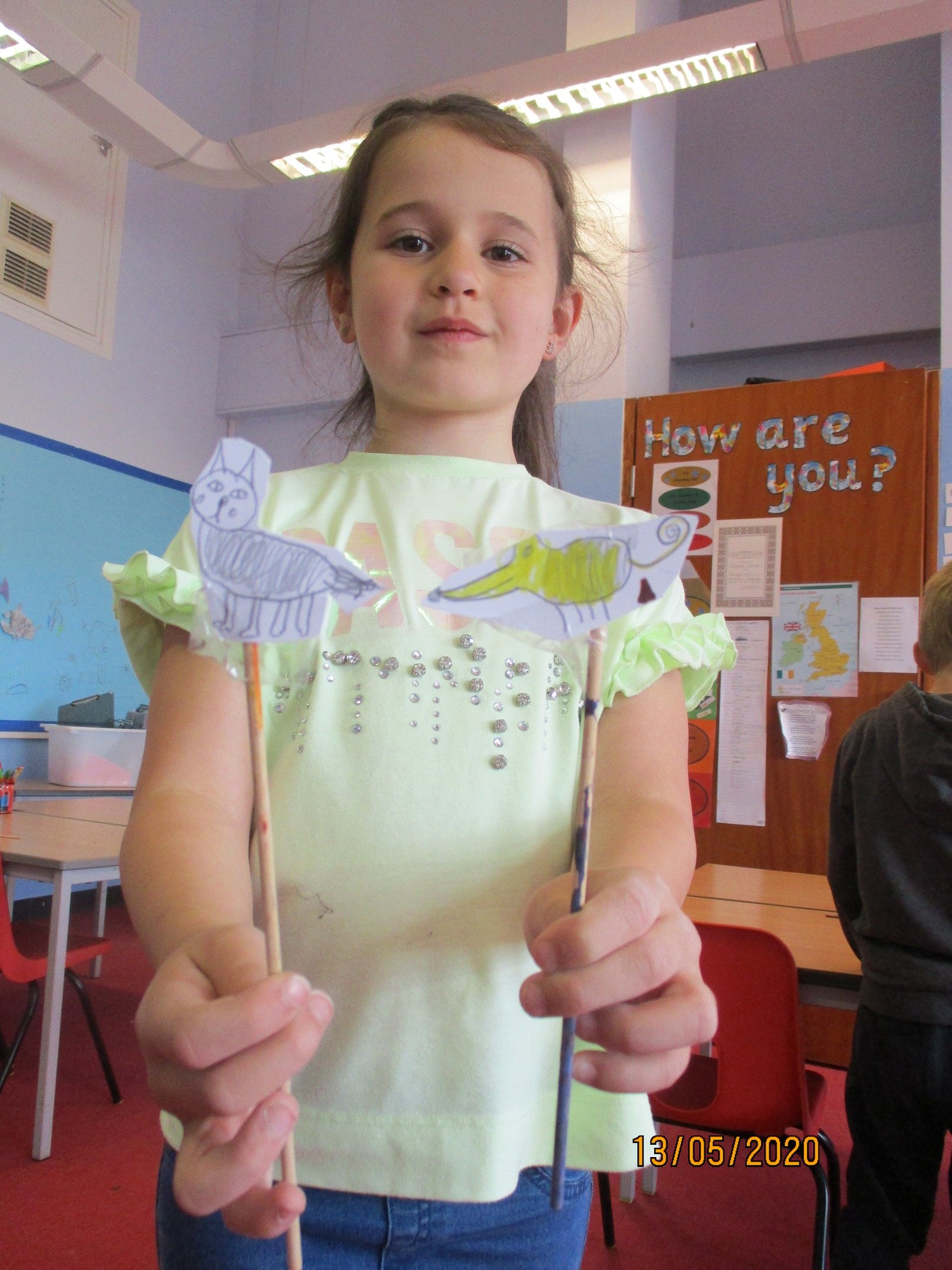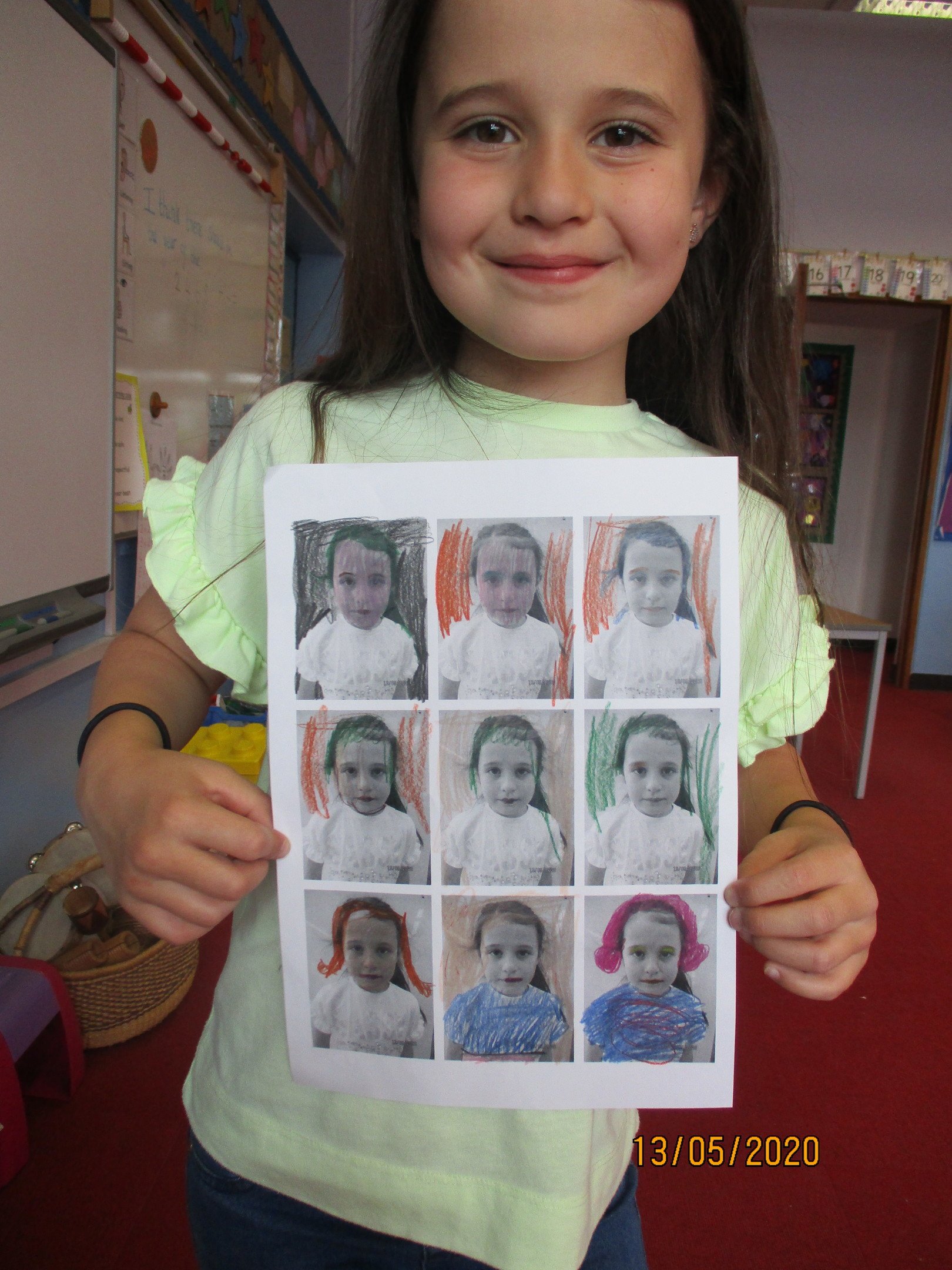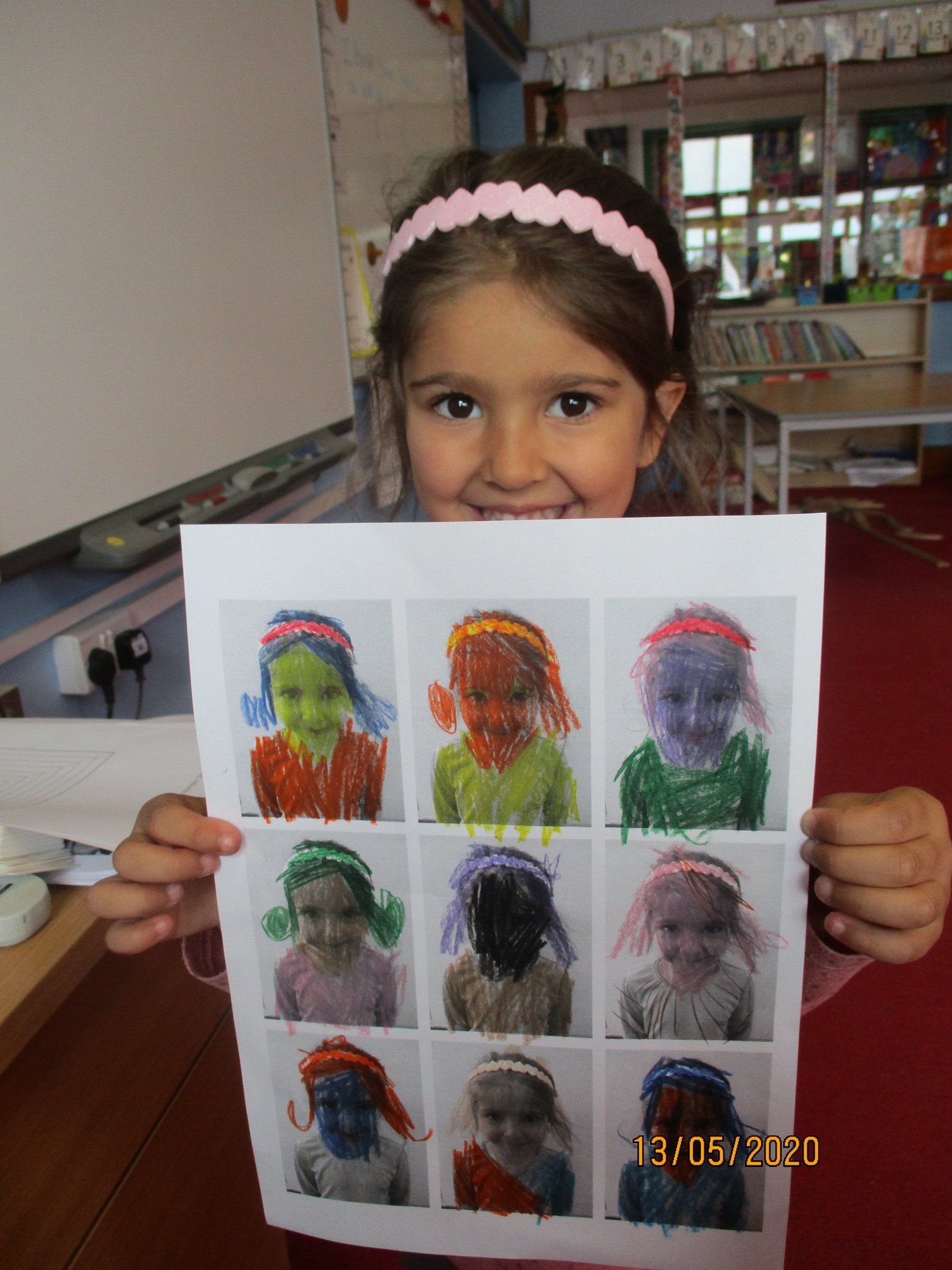 Tuesday 12th May
It has been another sunny day at school. We started off the morning with Joe Wicks to get us energised. After that we thought about new animals that could have been used in 'The Race across the River' story. We wrote a list of animals and described them. In Maths we did some problem solving that involved addition. We thought of different ways to complete the puzzle and shared our ideas together. Isla S also brought in mummified frog, She shared her story of how it was found with the group. We finished off the morning with a quiz! In the afternoon we looked at work by the artist Jackson Pollock. We liked that he created his artwork listening to jazz music. We played jazz music and painted in time with the beat. It was messy but good fun! Isla J suggested we could get inspired by other artists too. We looked at the work of Bridget Riley and some children decided they wanted to recreate her line drawings! It was a lot of fun to be inspired by different artists!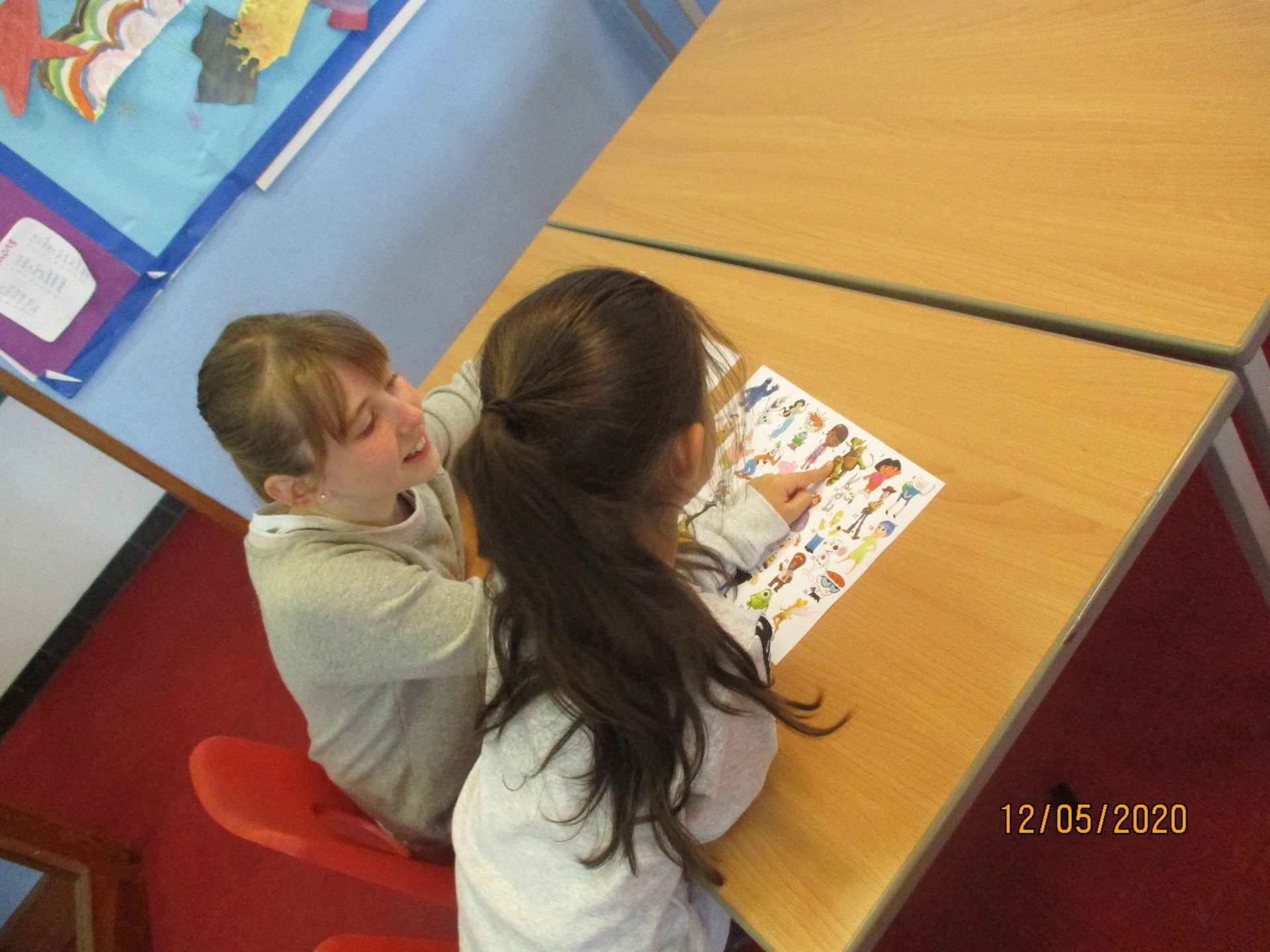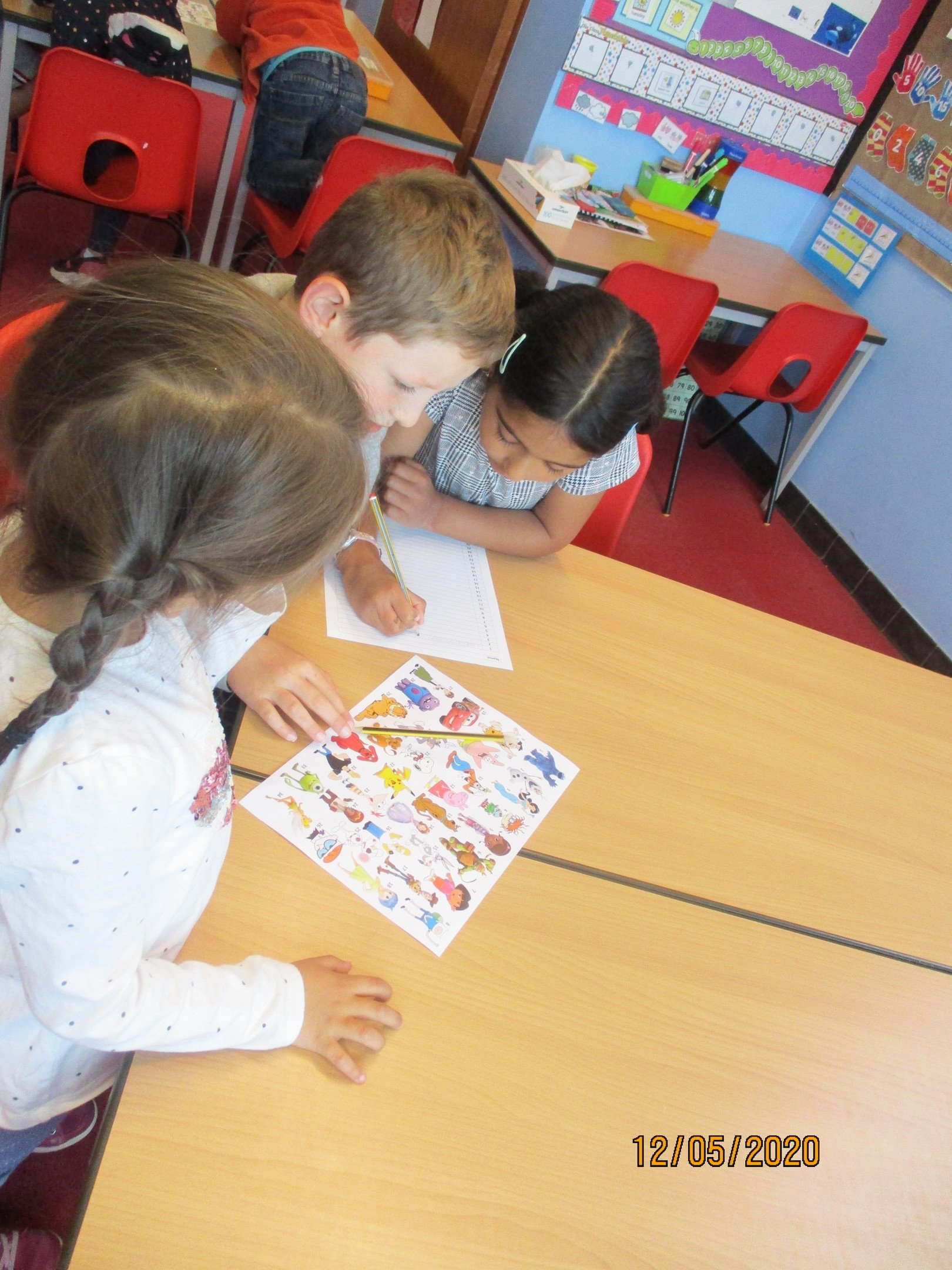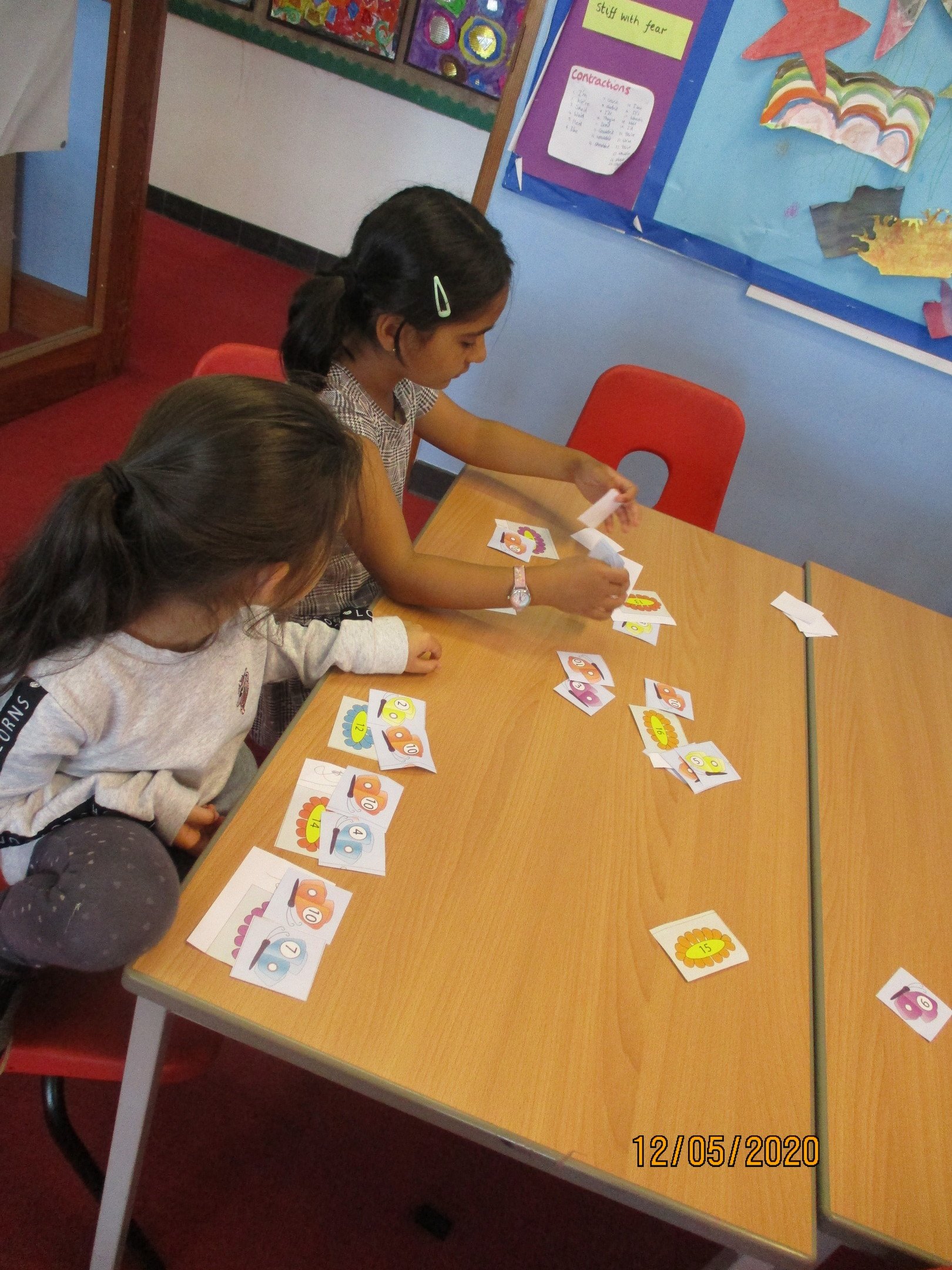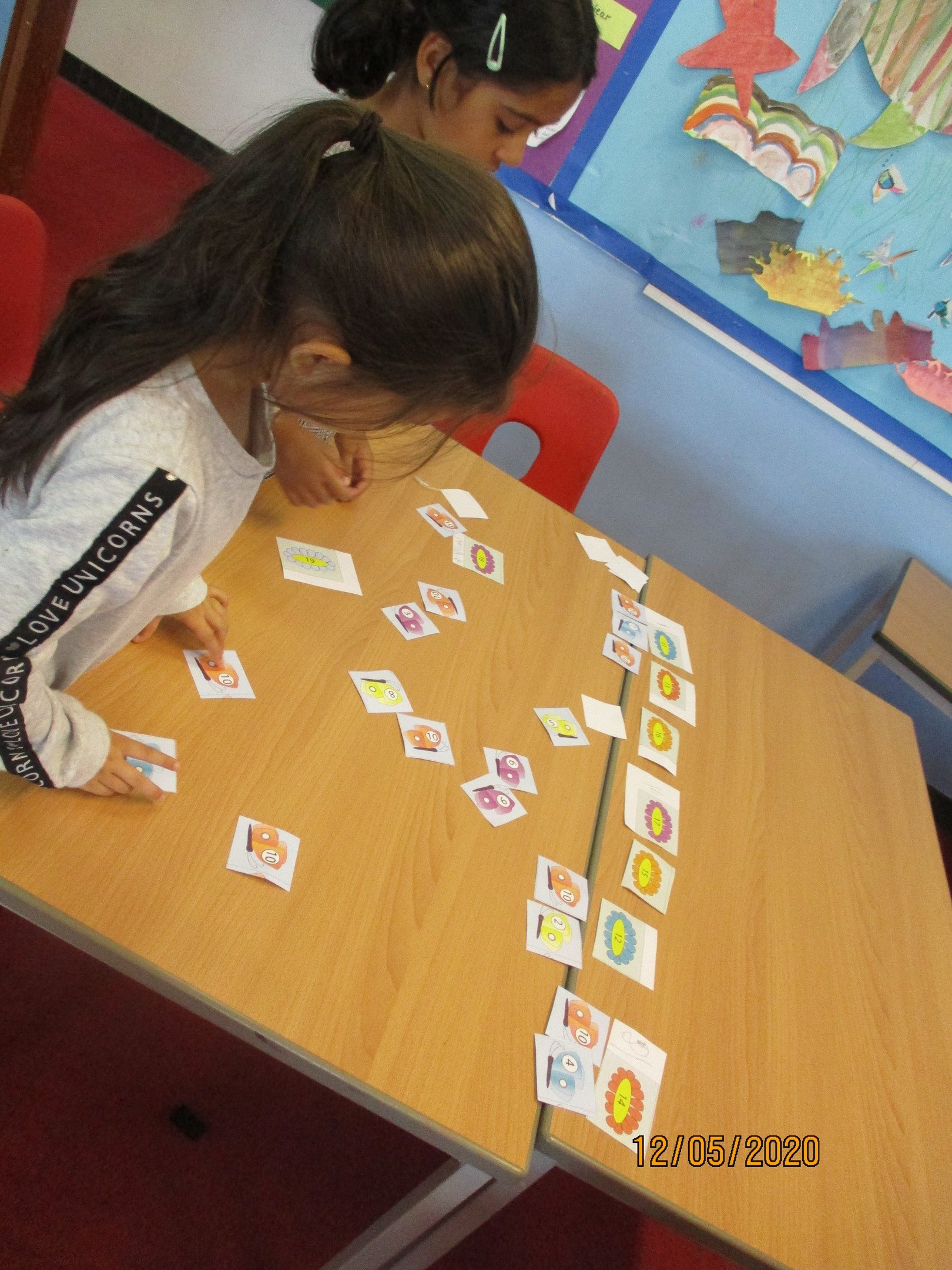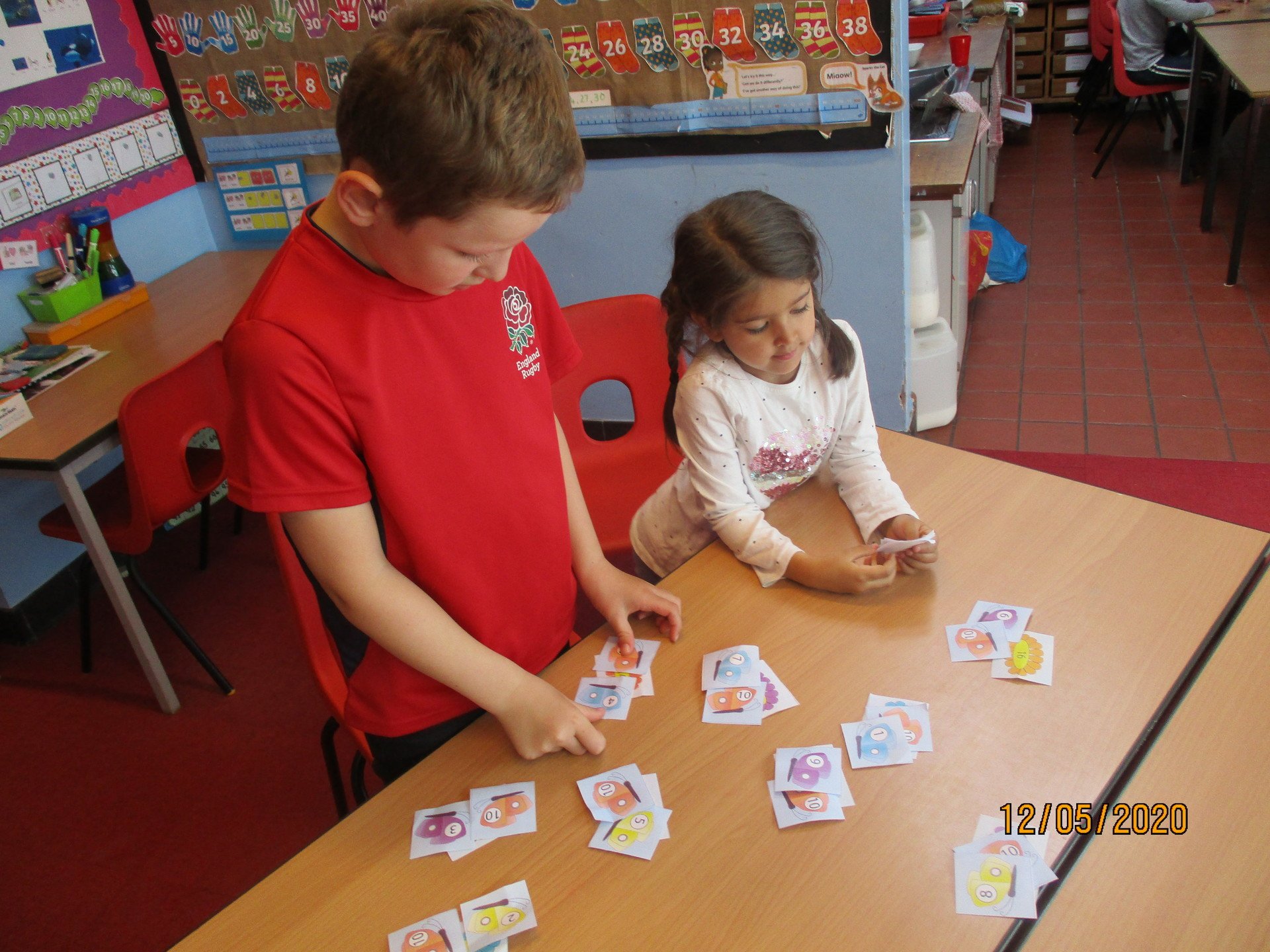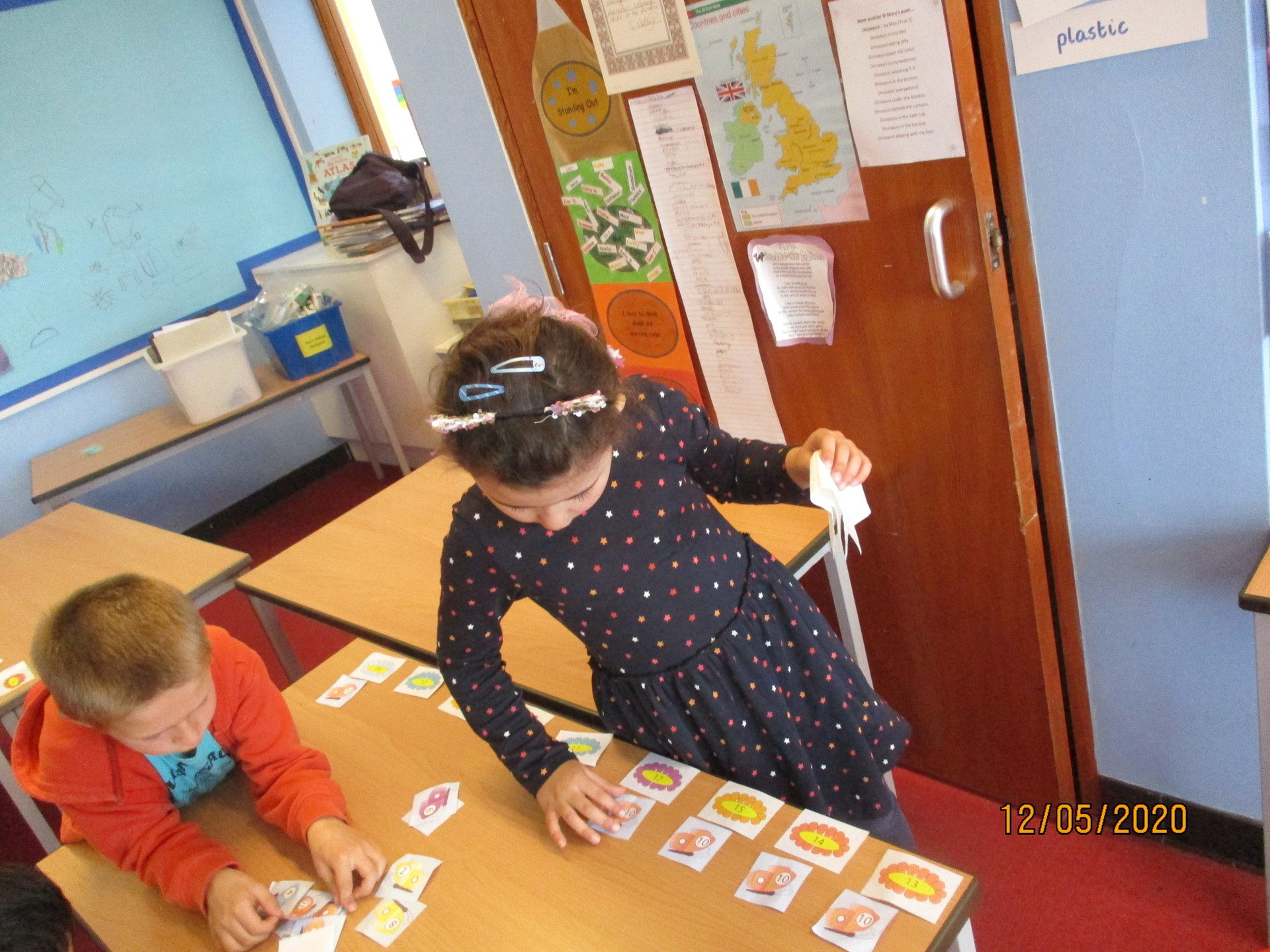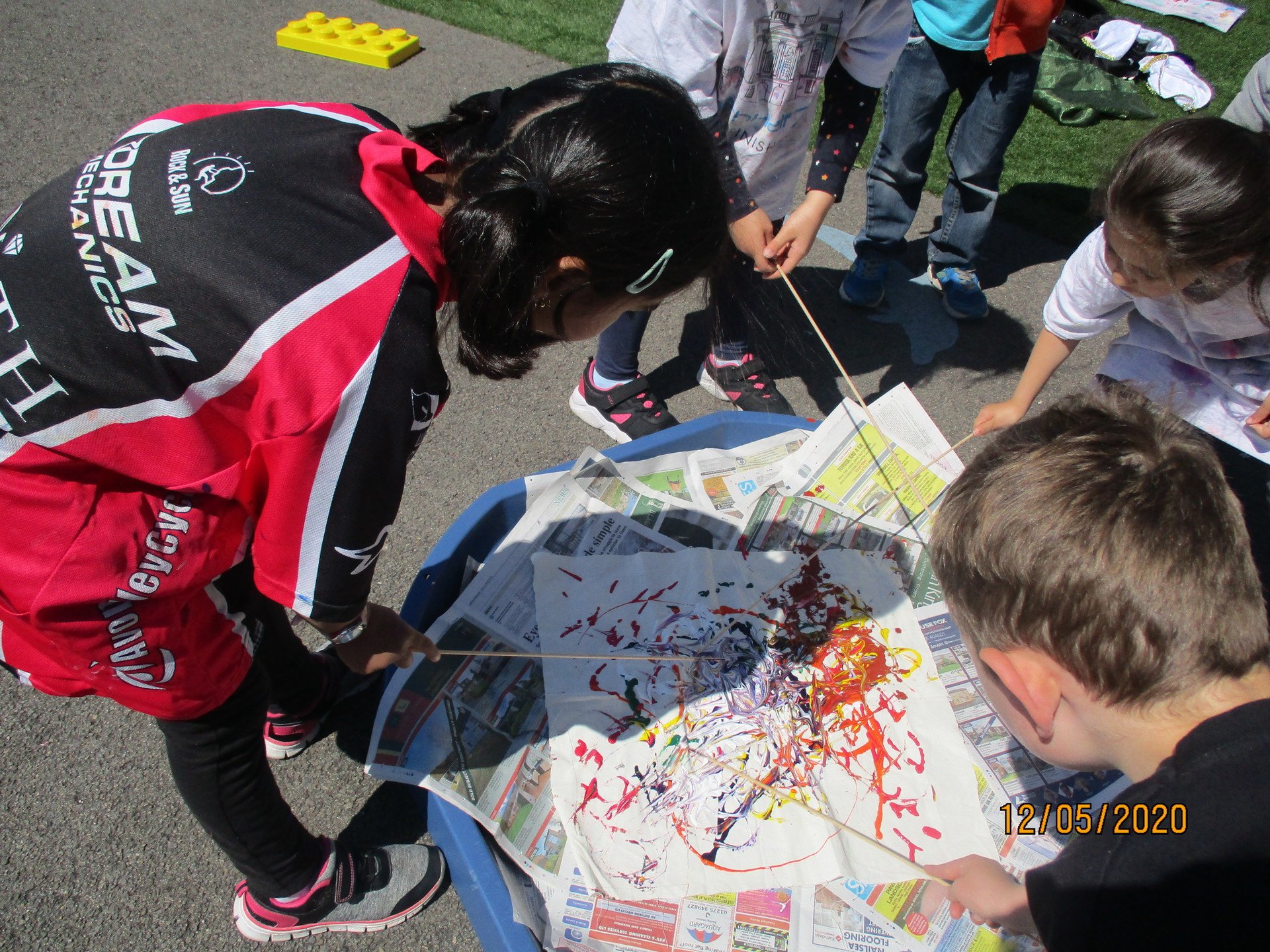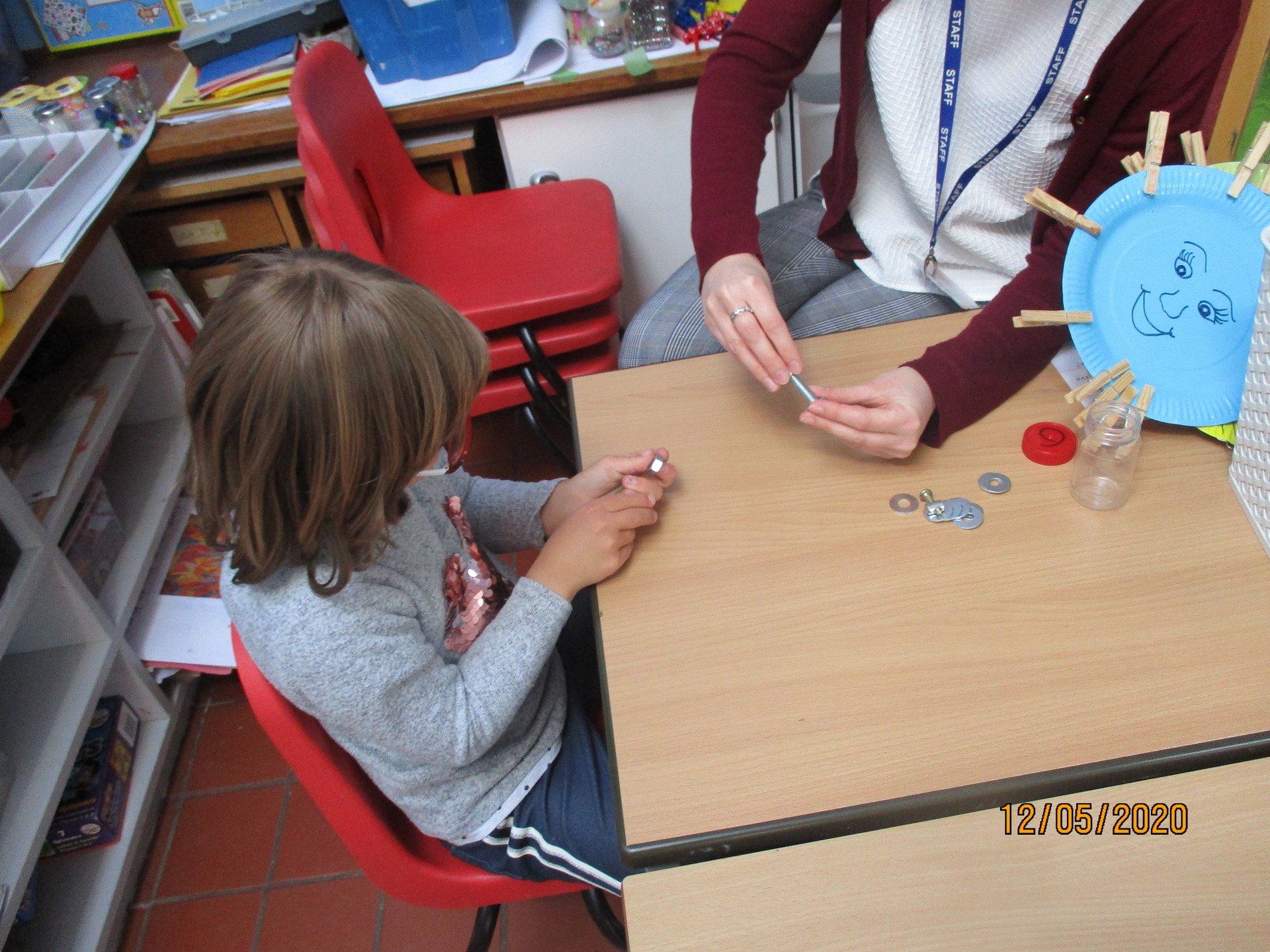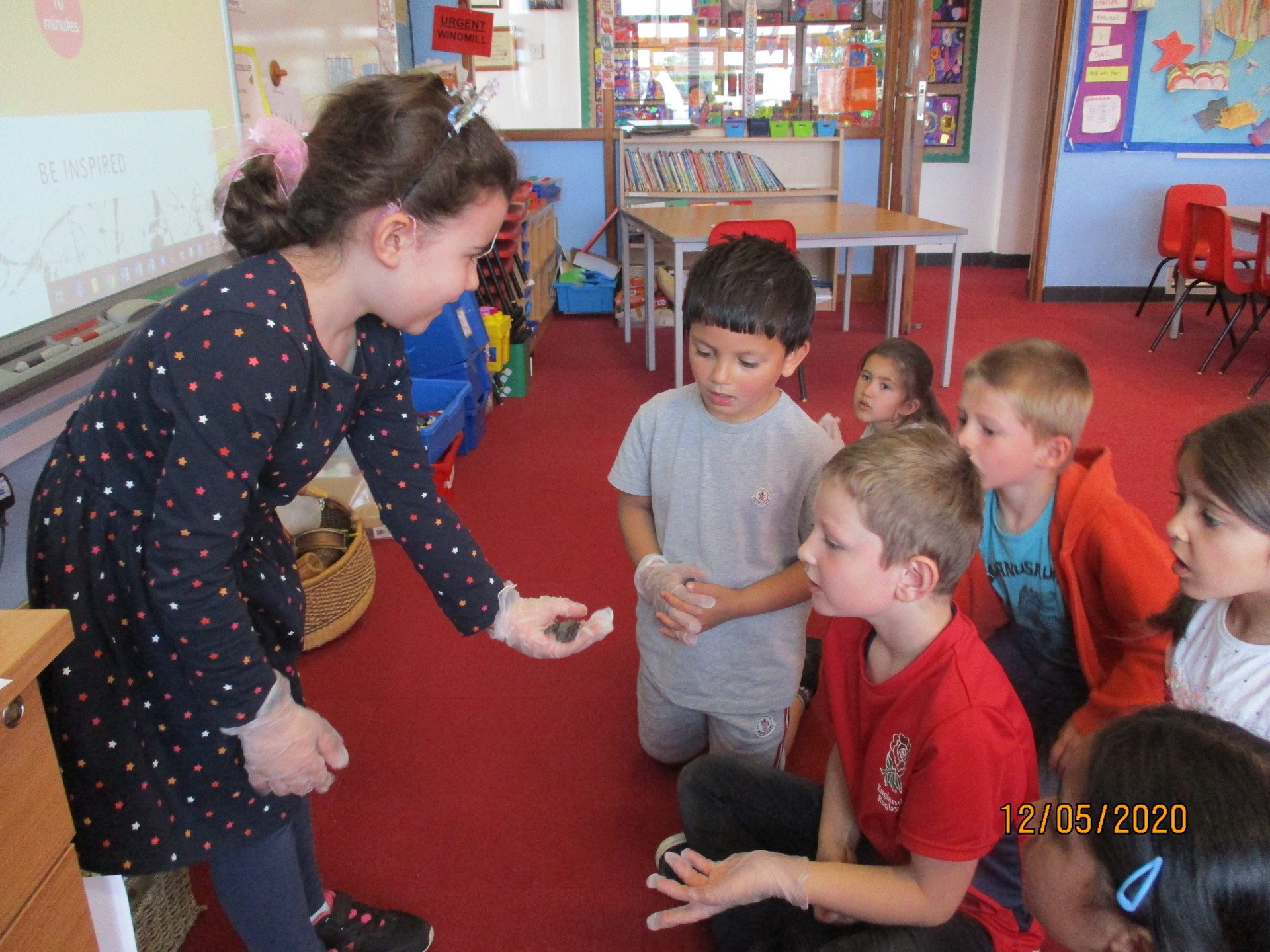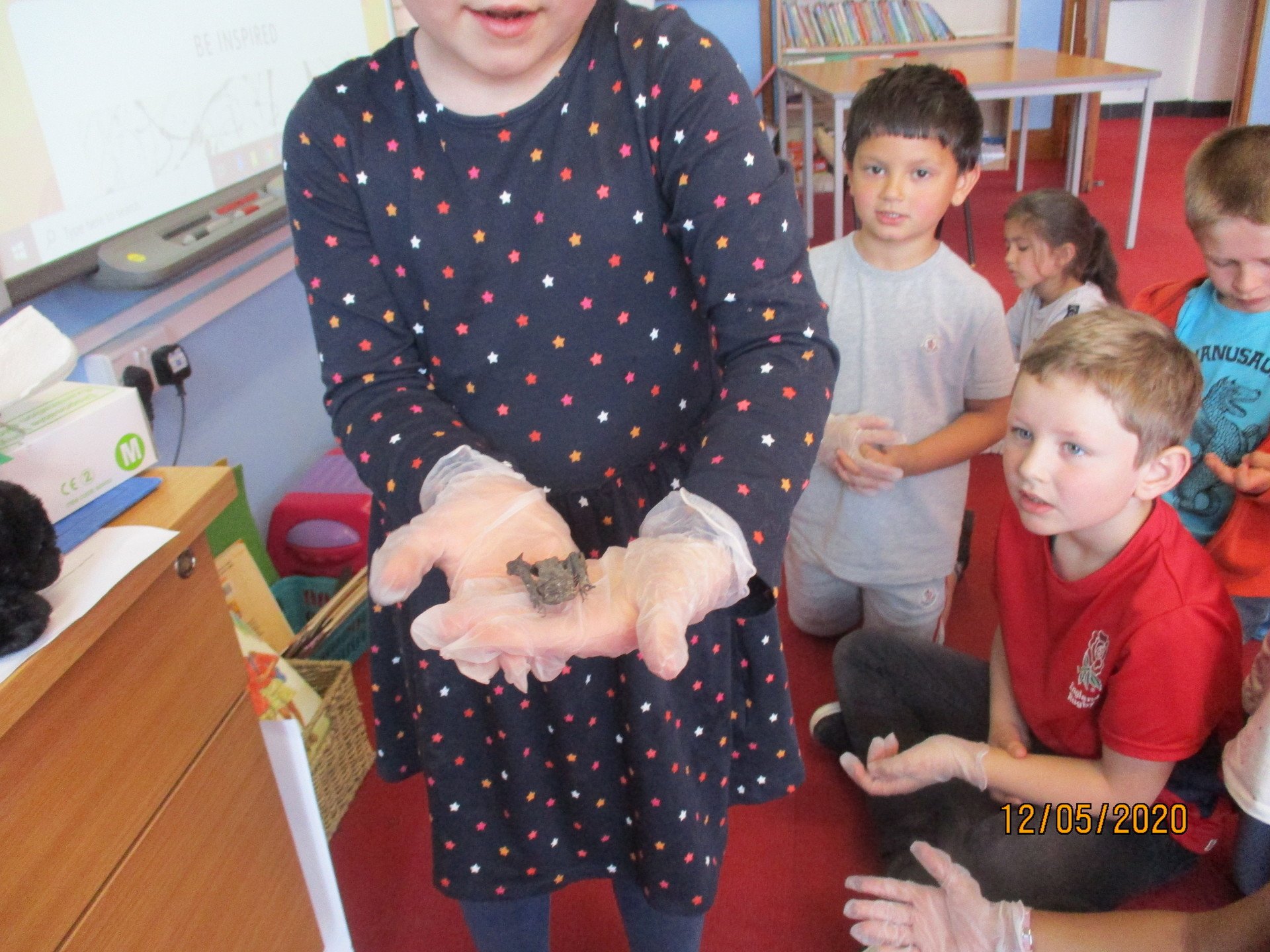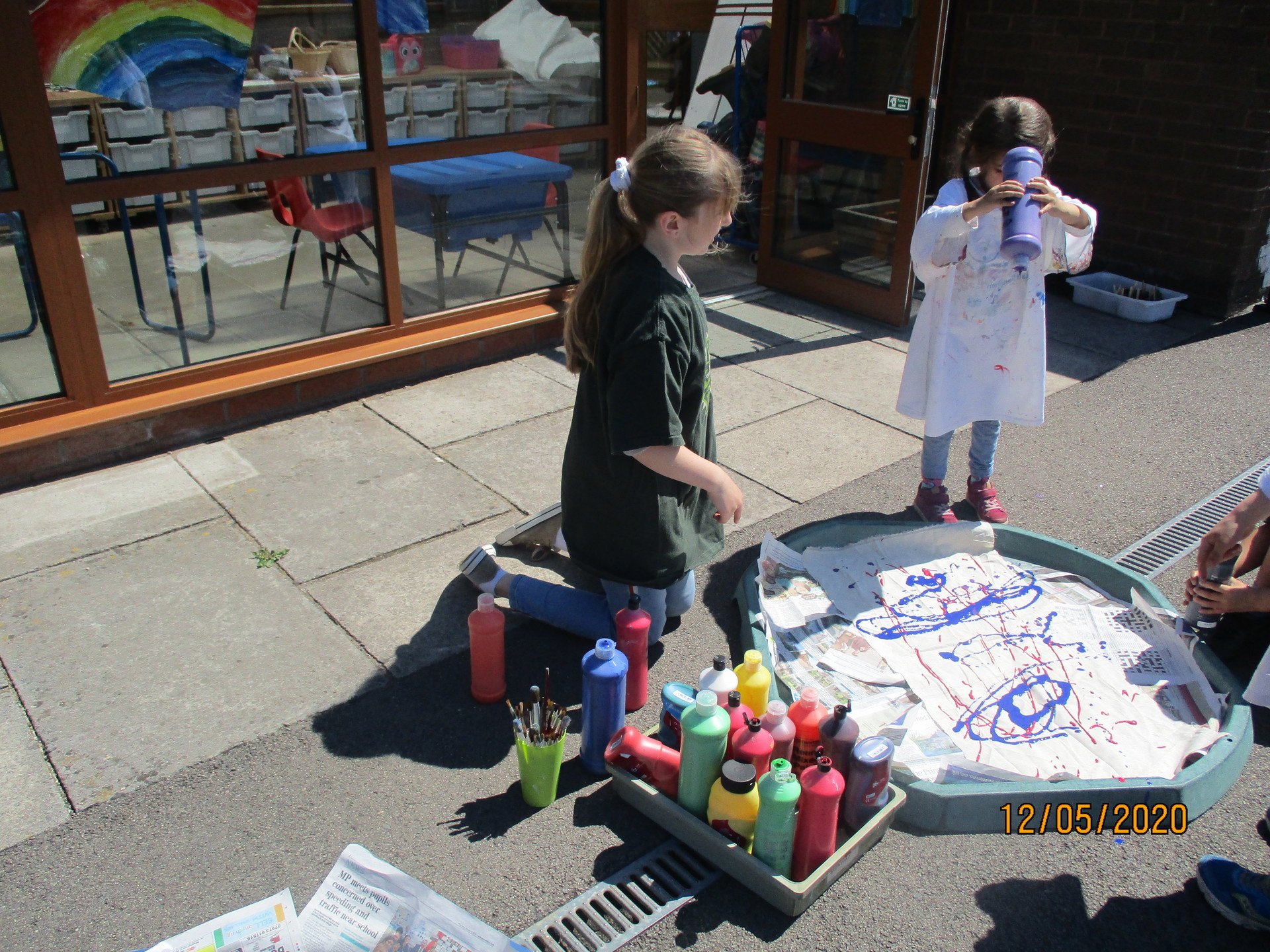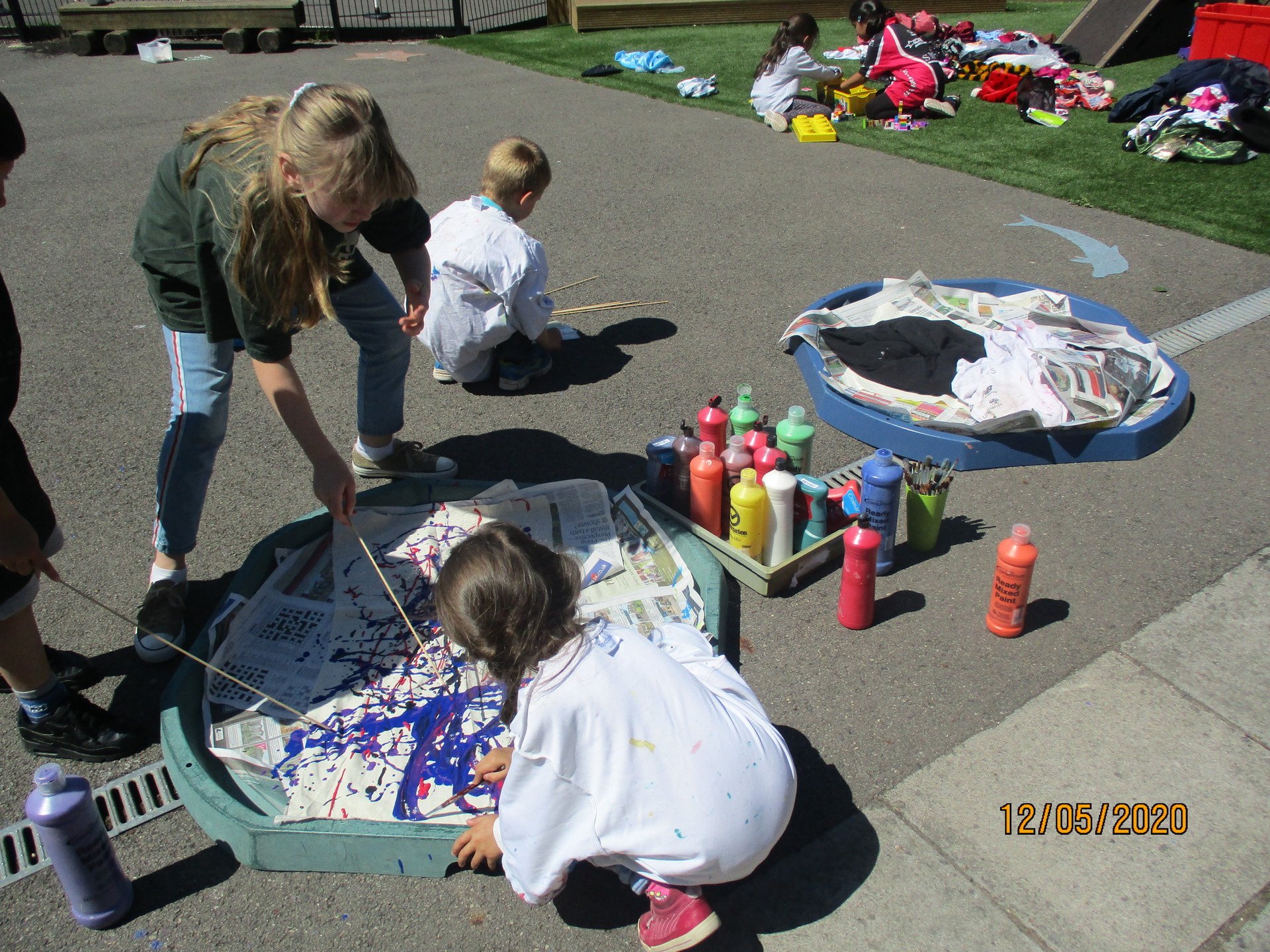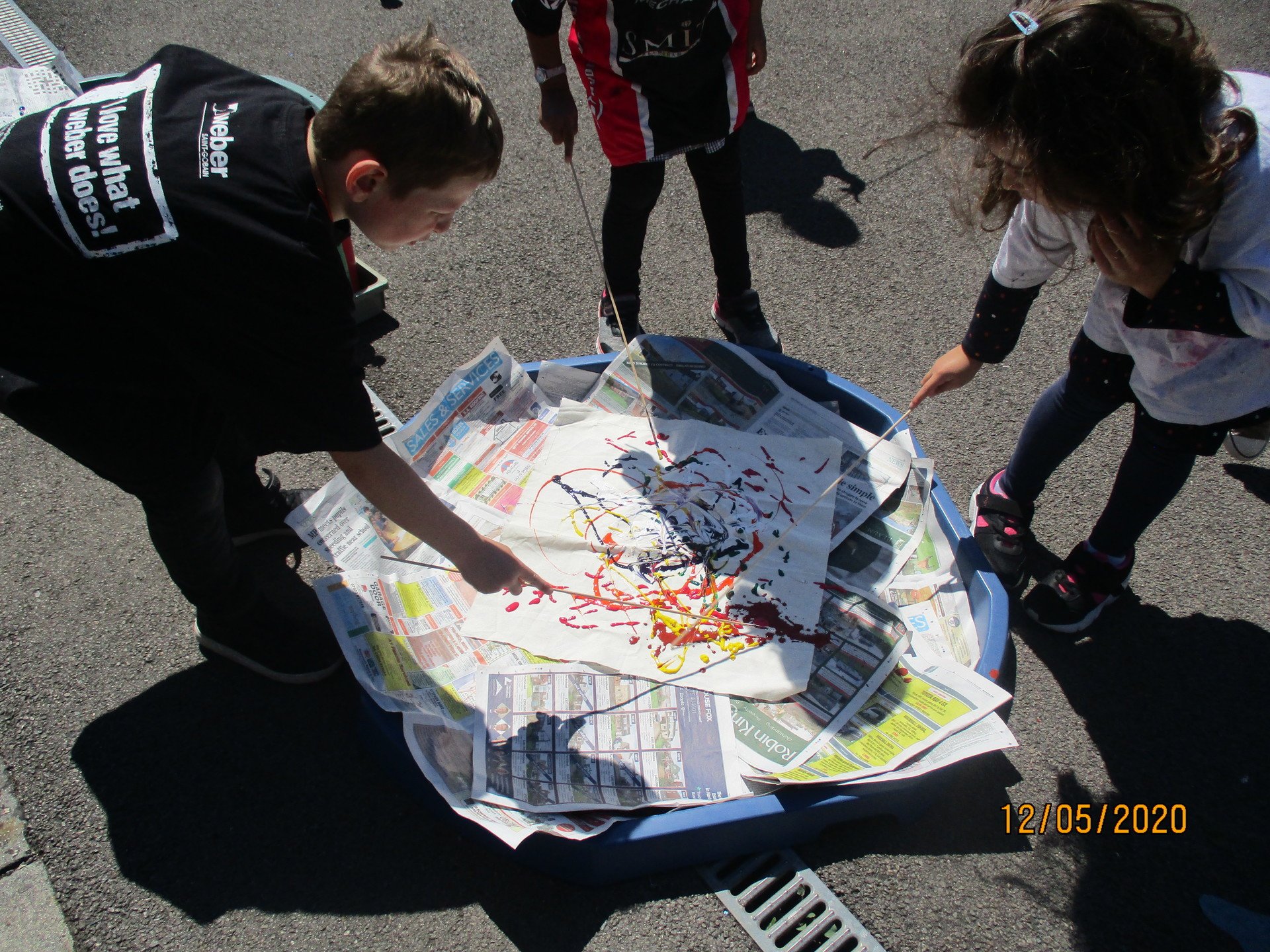 Monday 11th May
We have had such a busy day at school. First we planned a party for the Emperor in the story of 'The Race across the River.' Next we solved addition problems using dominoes. We had to put the dominoes in a square and make all 4 sides have an equal number of dots. It was quite a challenge. We have also been very lucky today! Not only did we play ball games with Lynne, Zena also cooked us some tasty hot dinners! In the afternoon we learnt about 'Starry Night' by Vincent Van Gogh. We recreated his picture using watercolours and oil pastels. Sadly the camera needed charging this morning so no photos today. It is all ready to use tomorrow though.
Thursday 7th may
Today was the day of our VE Day celebration. Yesterday, we painted bunting and today, we got to use it!
We started the day by making cakes to eat at our party. They were red, white and blue. We then made two cake stands to hold our cakes. We also made bags decorated for VE Day to take our cakes home in.
Zena made us a sandwich lunch with Eton Mess and little Union Jack flags in our sandwiches. Perfect!
In the afternoon, we made place mats, finished our cake stands, decorated our cakes and had a party. We decorated the corner of the playground with bunting and carefully put our cakes on the cake stands. They held them perfectly. We also had strawberries and orange juice to drink.
We have noticed that the school strawberries are growing nicely in the sunshine. I wonder when they will be ready...
We had a lovely afternoon. Have a very lovely weekend. Maybe you are having a tea party this weekend too. Have fun.
Wednesday 6th May
We were so busy with our learning this morning that we didn't take any photos at all! Everyone completed their website learning this morning. We all wrote our own version of The Very Hungry Caterpillar, using ideas from a poem to help us.
In the afternoon, we talked about VE Day and what this is and why lots of people were having a party on Friday to celebrate. We then talked about our own school tea party tomorrow when we will bake cakes and plan a party for the afternoon. We also listened to some songs from the time of WW2.
We made red, white and blue bunting if we were painting, and sewed some bunting in different colours if we were using fabric. We have some bunting up in the classroom ready for tomorrow.
We need to make place mats tomorrow and decide what games we will play at our party. What will you be doing on Friday for VE Day?
Tuesday 5th May
Another busy day here! We started our day with some Frozen yoga, where we enjoyed moving along to the story of Anna and Elsa. We felt relaxed (and a little sleepy) by the end! We then began writing up our stories about our own compassionate elephant, trying really hard to use descriptive language. In Maths, we began with an investigation and then moved on to looking at fact families. Some of us found number bonds to ten and then twenty using cars and a car park!
This afternoon we finally got to decorate our recycled elephants and we are so pleased with the final outcome. Most of us went for a patchwork/ Elmer effect, and some of us wanted to make 'parade elephants'. Take a look at the pictures to see them! Mrs Cope has left them to dry until tomorrow.
We finished off the day making an obstacle course outside for each other, and then watering the plants. We hope you've had a lovely day!
Monday 4th May
Hi everybody, we've had another lovely start to the week. Today we looked at elephants and thought of all of the special elephants that we know, 'Elmer', 'Dumbo' and of course our school Compassion elephant! We learnt some interesting facts about elephants and then planned a story based on Elmer, but with our own elephant that showed great compassion to others.
We were lucky enough to have Lynne again today who has played lots of games with us outside including Cricket which was great fun. This afternoon we recycled milk cartoons in to some elephants that we have designed. Take a look tomorrow to see our final pieces! Maybe you'd like to have a go yourself, it was very simple and great fun.
We hope you have had a good Monday too!
Friday 1st May
Dear friends,
There were eight children in today with Mrs Ball and Mrs Chapman and we started the day with Cosmic Yoga positions some of which were quite hard especially for Mrs Ball who had no chance with telephone pose! After doing some of the tasks set by teachers we had playtime followed by drawing. You can see some of our drawings in the gallery- aren't they great! Zena made another fabulous lunch spread and we enjoyed a natter together. This afternoon we went to the conservation area to collect leaves. It is quite overgrown down there at the moment. Everything has grown like crazy with all the sun and recent rain. We used the leaves to make pictures back in class and Isla even made a little animation of the three bunnies using an iPad. Some of us were very tired by the end of the day and looking forward to the weekend.
Have a good weekend everyone!
Thursday 30th April
We started the day with singing in the hall with Mrs Westerwijk. Then we did Betsy the Banana Cosmic Yoga and Mrs Ball is definitely finding it harder to get up and down from the floor. Year 2 enjoyed the problems solving though it was quite tricky but drawing pictures helped and the youngest children made 8 in lots of different ways with multi-link and recorded the ways they found on whiteboards. As always Zena made a lovely lunch and Mrs Chapman chatted with us while we ate, which was lovely. As it rained a lot today we had to stay inside until the afternoon so we did a lovely calm drawing task- single line drawings of some classroom objects. This afternoon we did rainbow handprints to turn into something else tomorrow- you will have to wait and see what that is. Finally we managed some outside play. We hope that you were able to go outside for some fresh air today.
Wednesday 29th April
Today we learnt about halving numbers. Miss Rainbow set us challenges and we had to find out which statements were true and which were false. We also took our bird treats down to the conservation area. We hope the birds will enjoy them. In the afternoon we made paper gifts to give to special people who we have not seen for a while. We put our gifts in envelopes and decorated them. We decided who we were going to send our gifts to. We hope this will brighten up their day.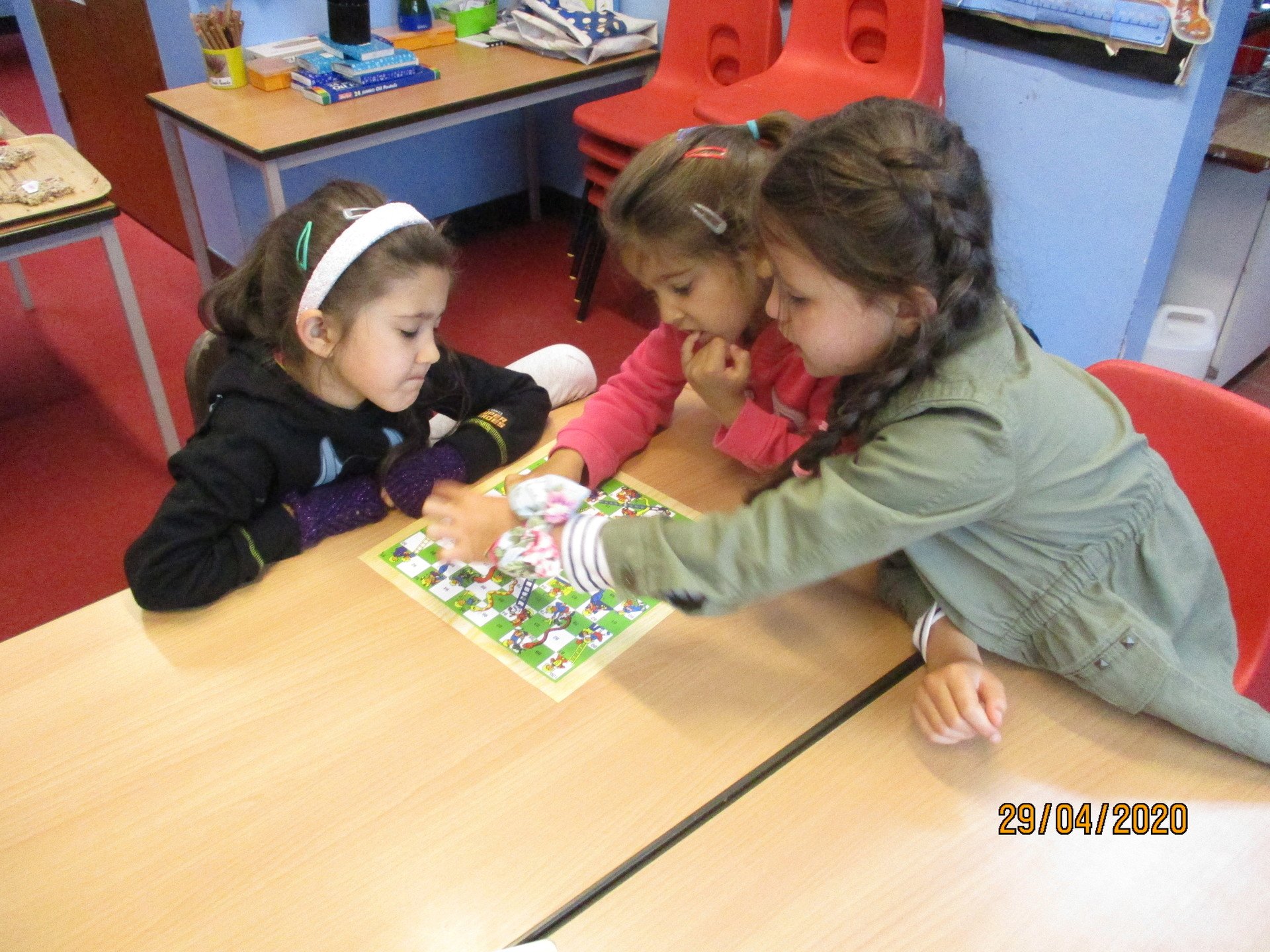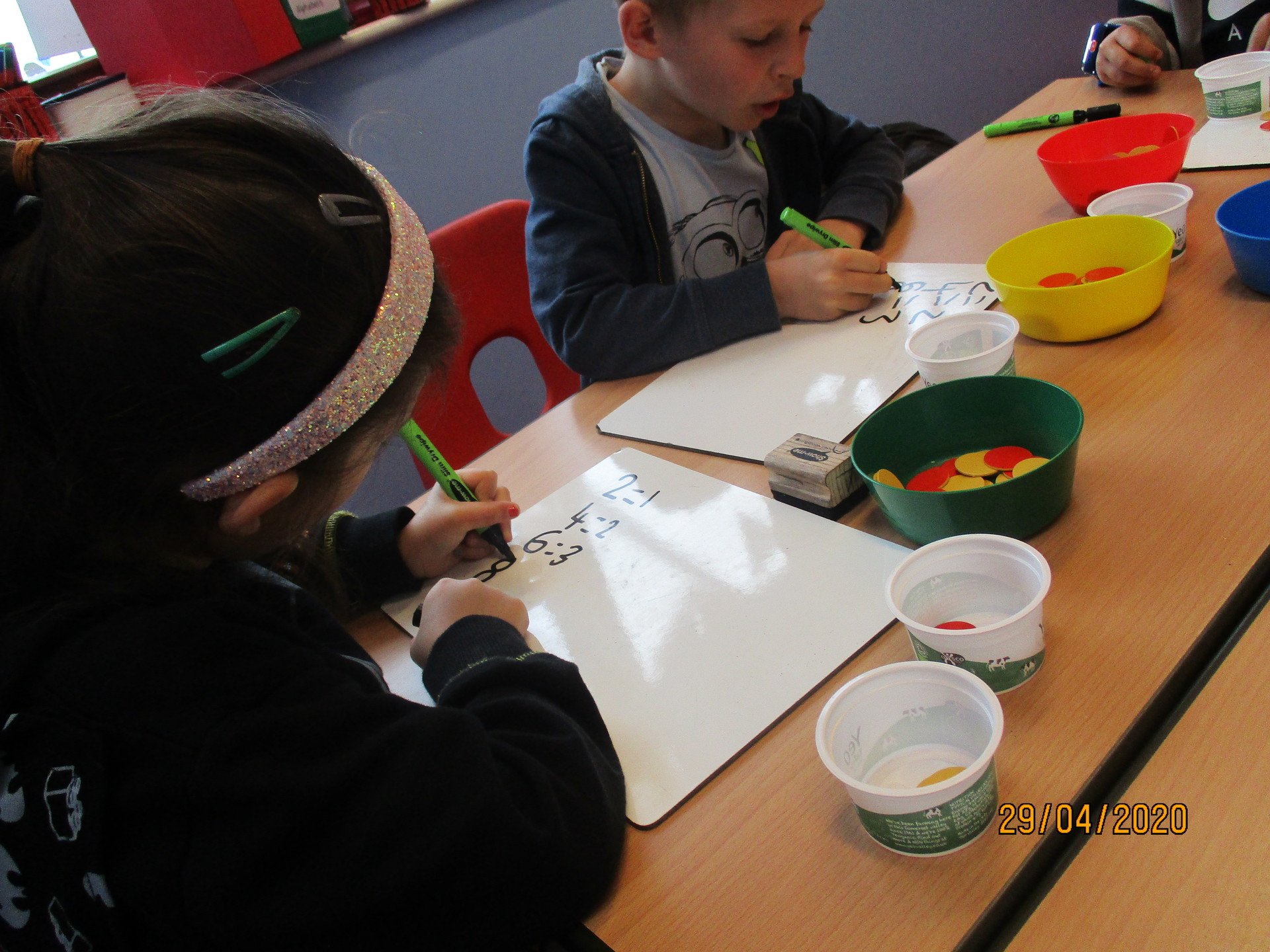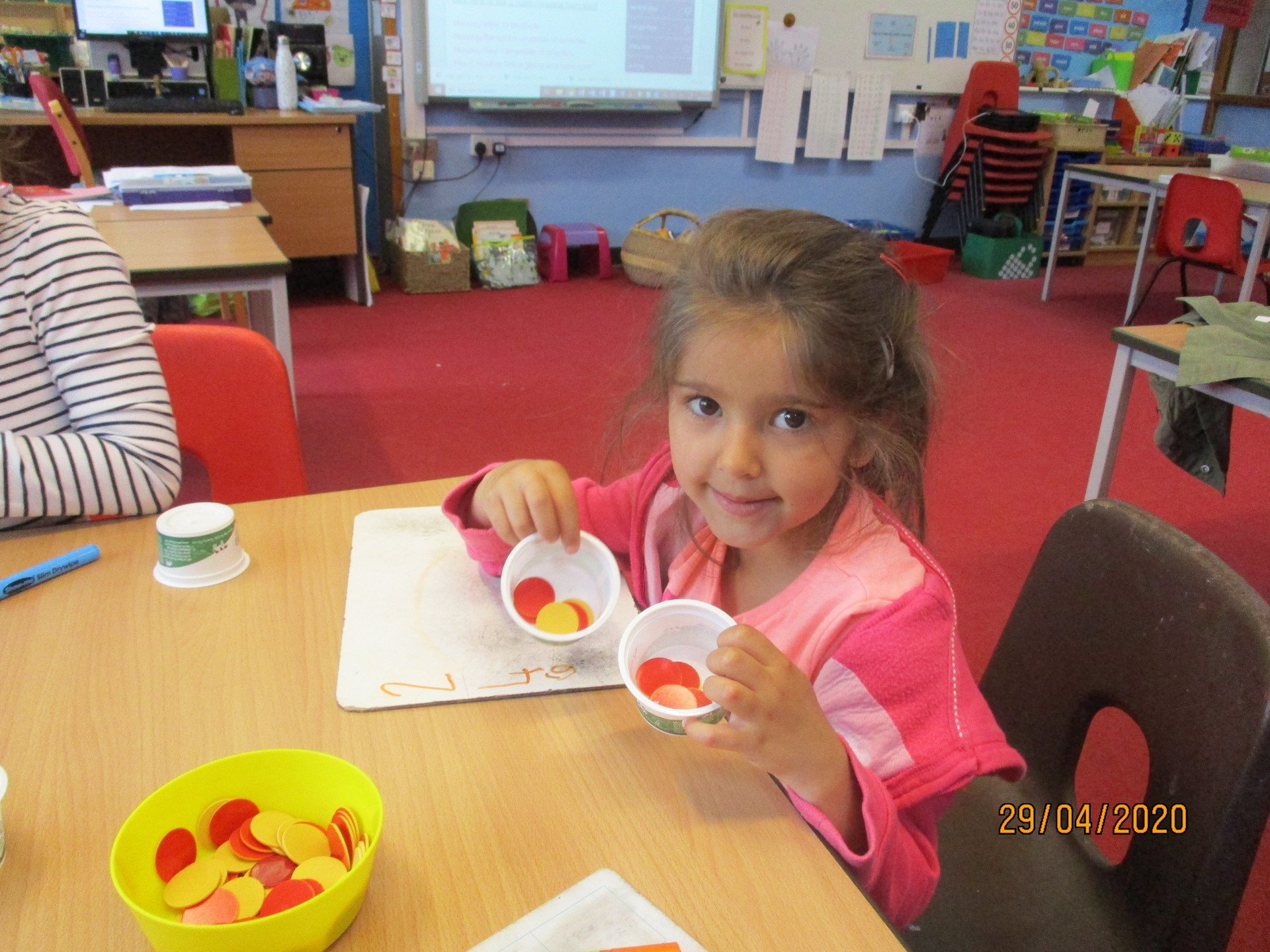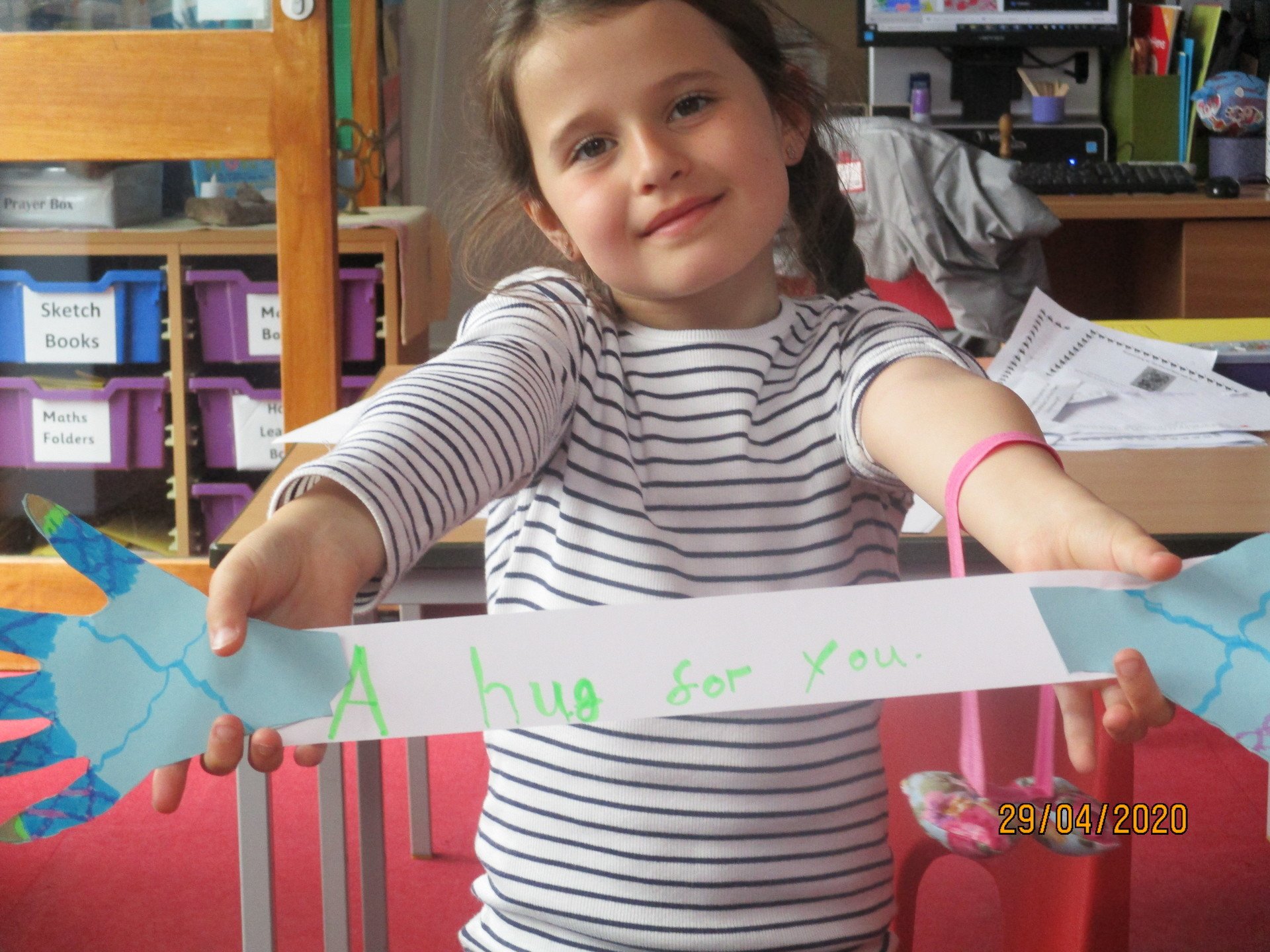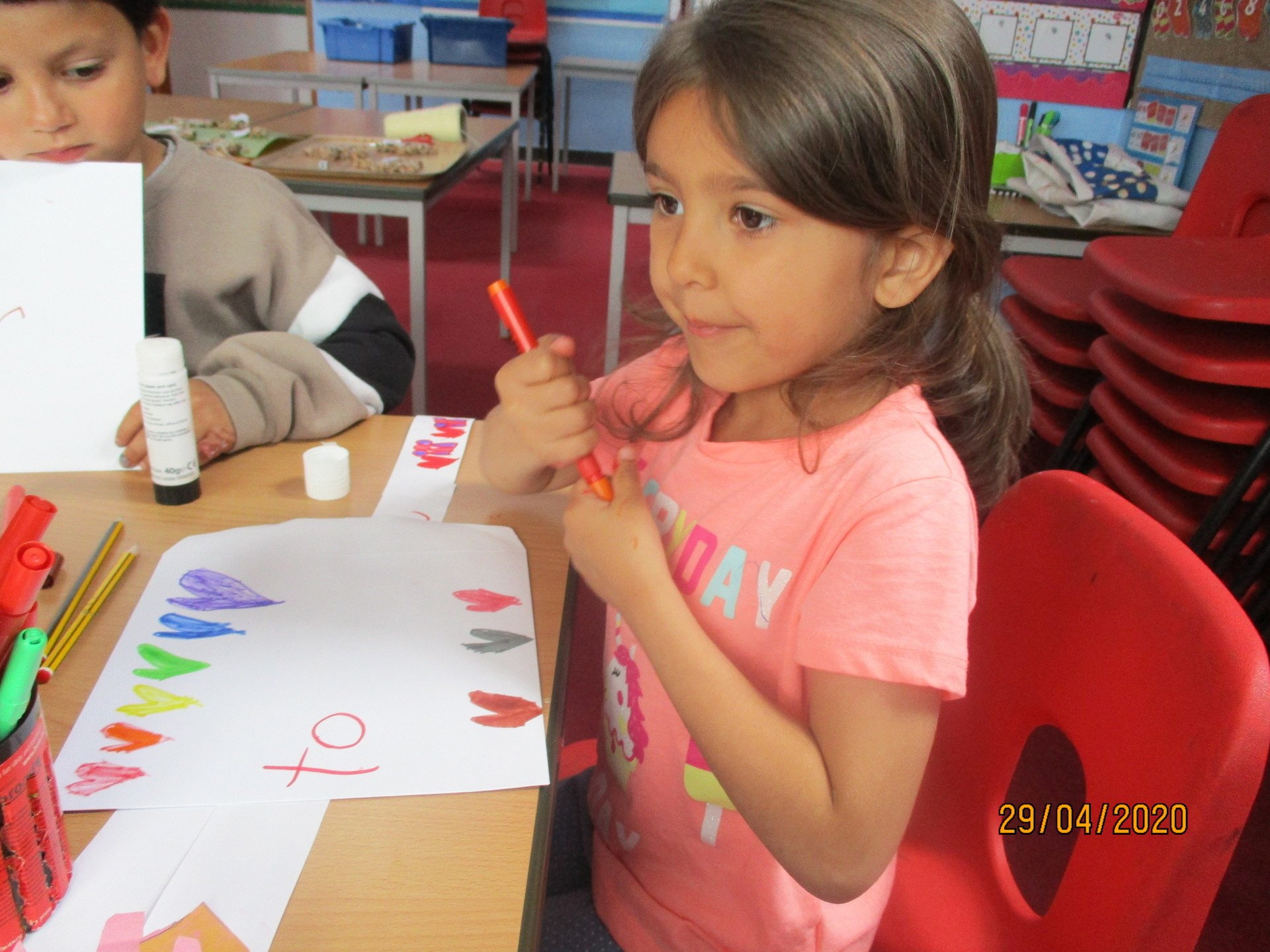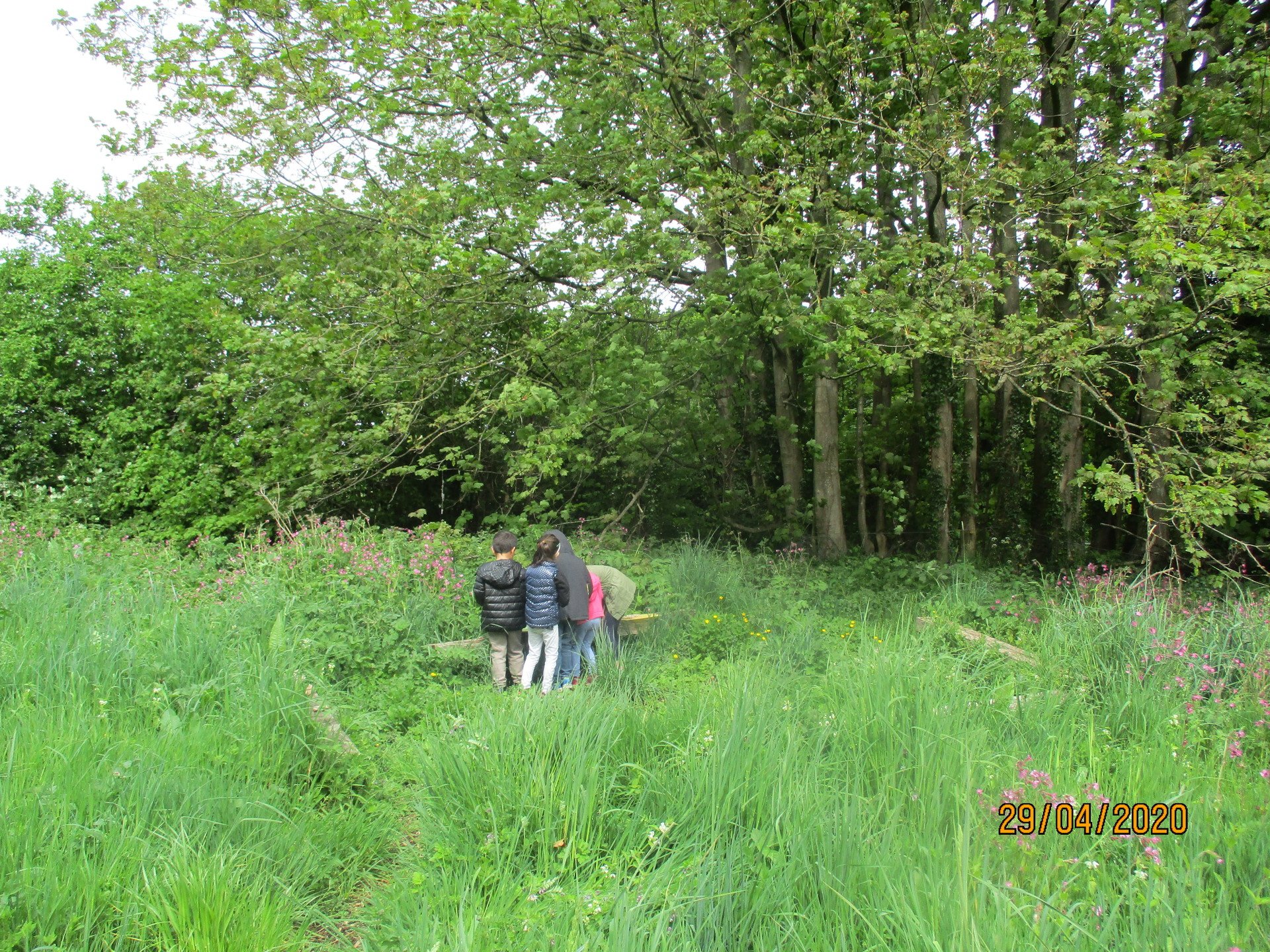 Tuesday 28th April
We continued learning about halving shapes. We investigated how many different ways we could show half of a shape using squared paper. We also enjoyed lots of stories today. We read a new book called 'Seal Surfer.' It had lovely illustrations.
In the afternoon, when it had finally stopped raining, we played some games outside. We also used pastels and ink and explored different artistic techniques.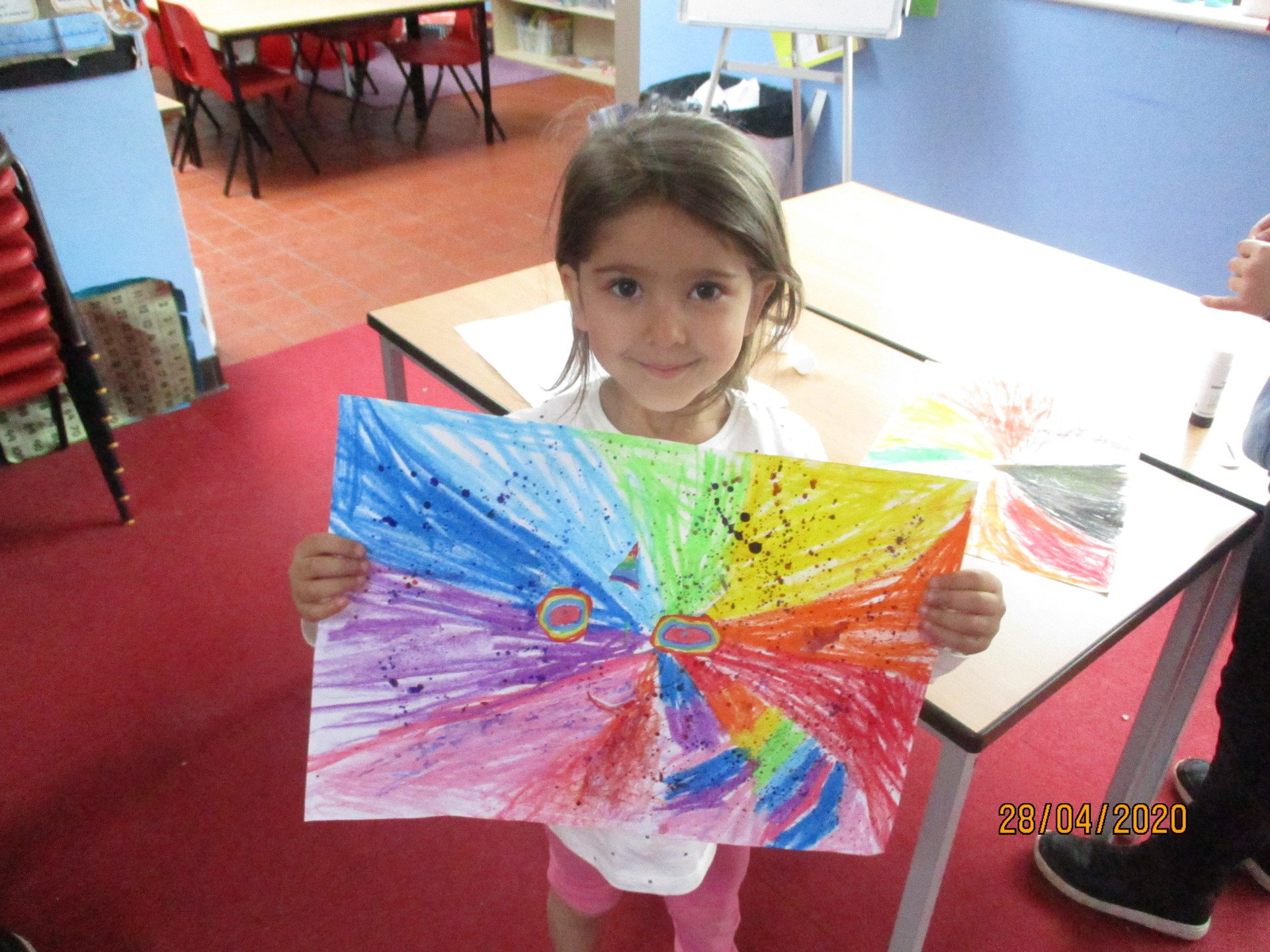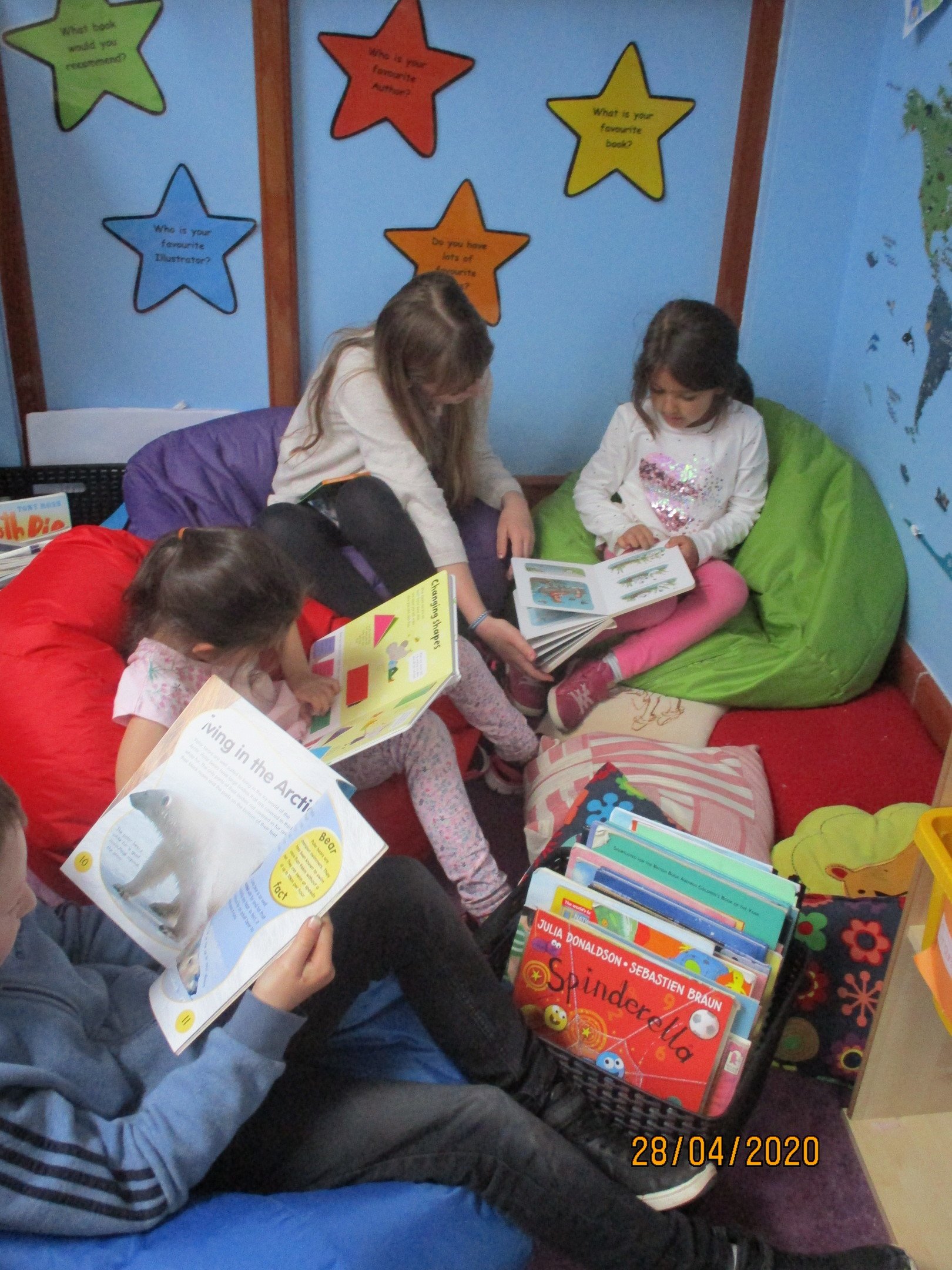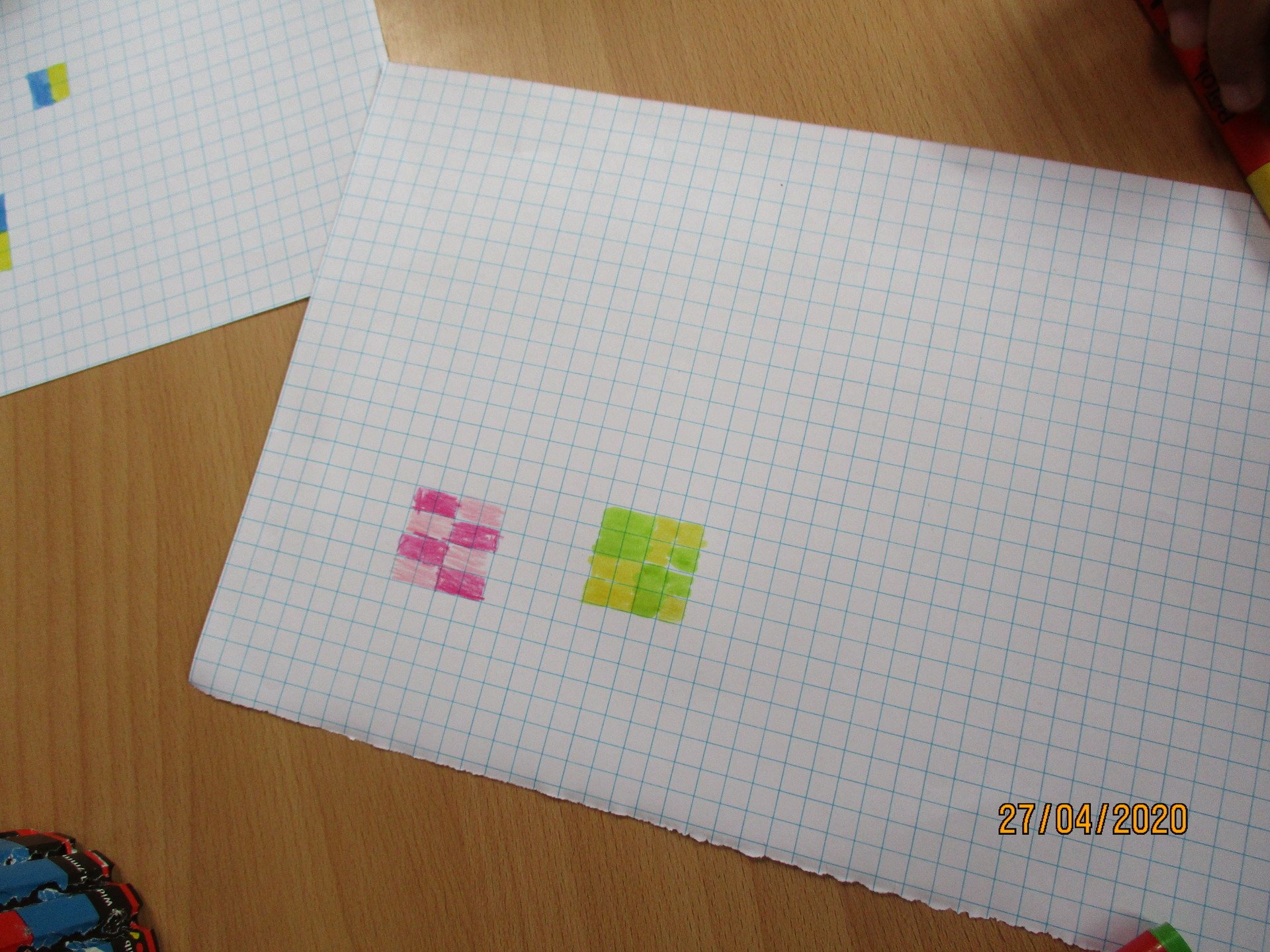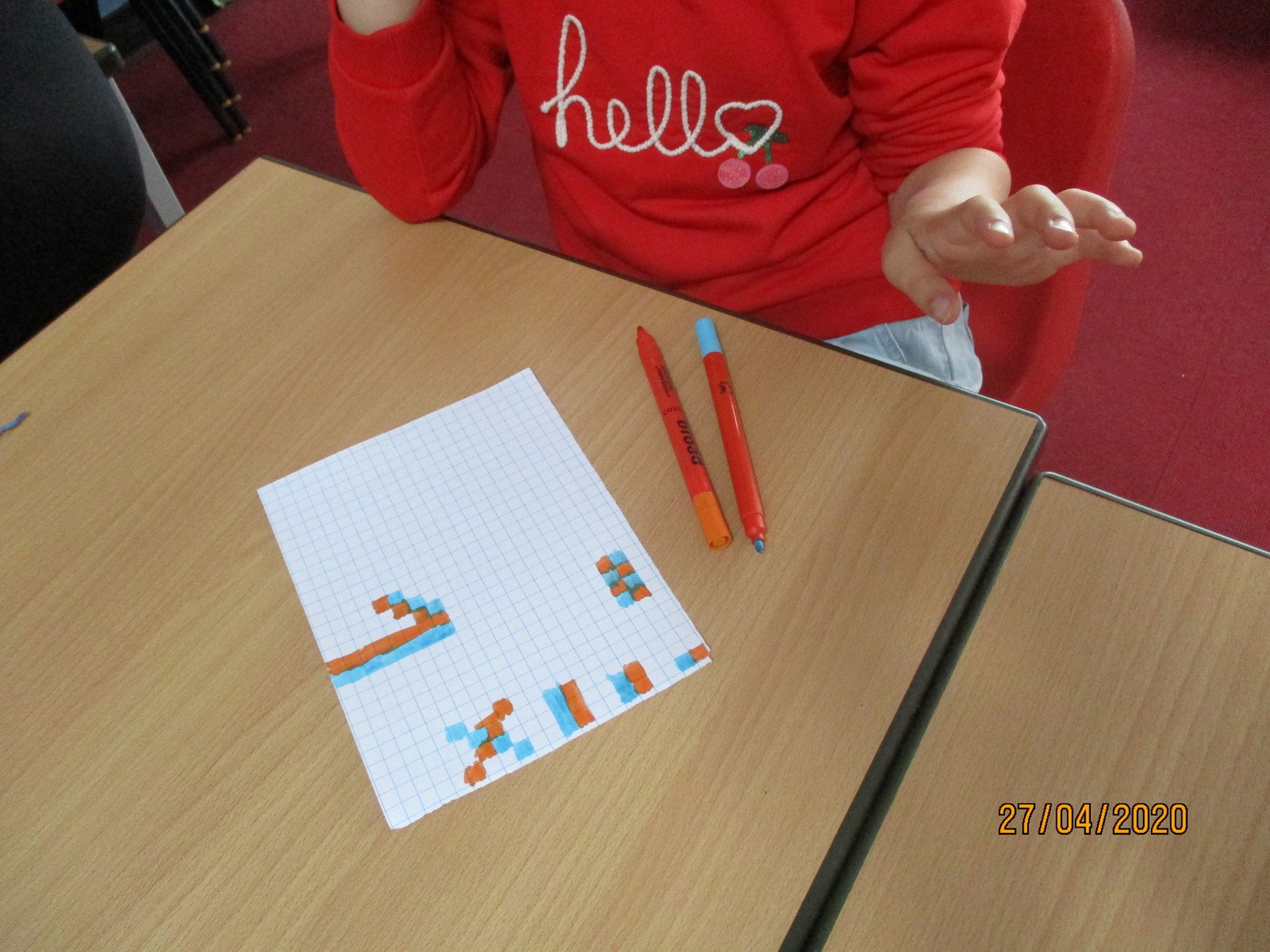 Monday 27th April
We started the day with some singing. We then did some 'halving' activities. We found out we could only fold a piece of paper 6 times and it didn't matter what size the piece of paper was! We found lots of different ways that we could find a half. In English we wrote some descriptions.
In the afternoon we were lucky to have Lyn so we did some sport activities on the field. We did different activities 26 times. This was because it was supposed to be the London Marathon at the weekend. We played 'Chicken Run' and 'Messy Bedroom' too. It was a lot of fun.
Finally we made some bird feeders. Miss Rainbow put them in the fridge so that they would set. Tomorrow we will be able to put them in the conservation area so that the birds can enjoy their tasty treats.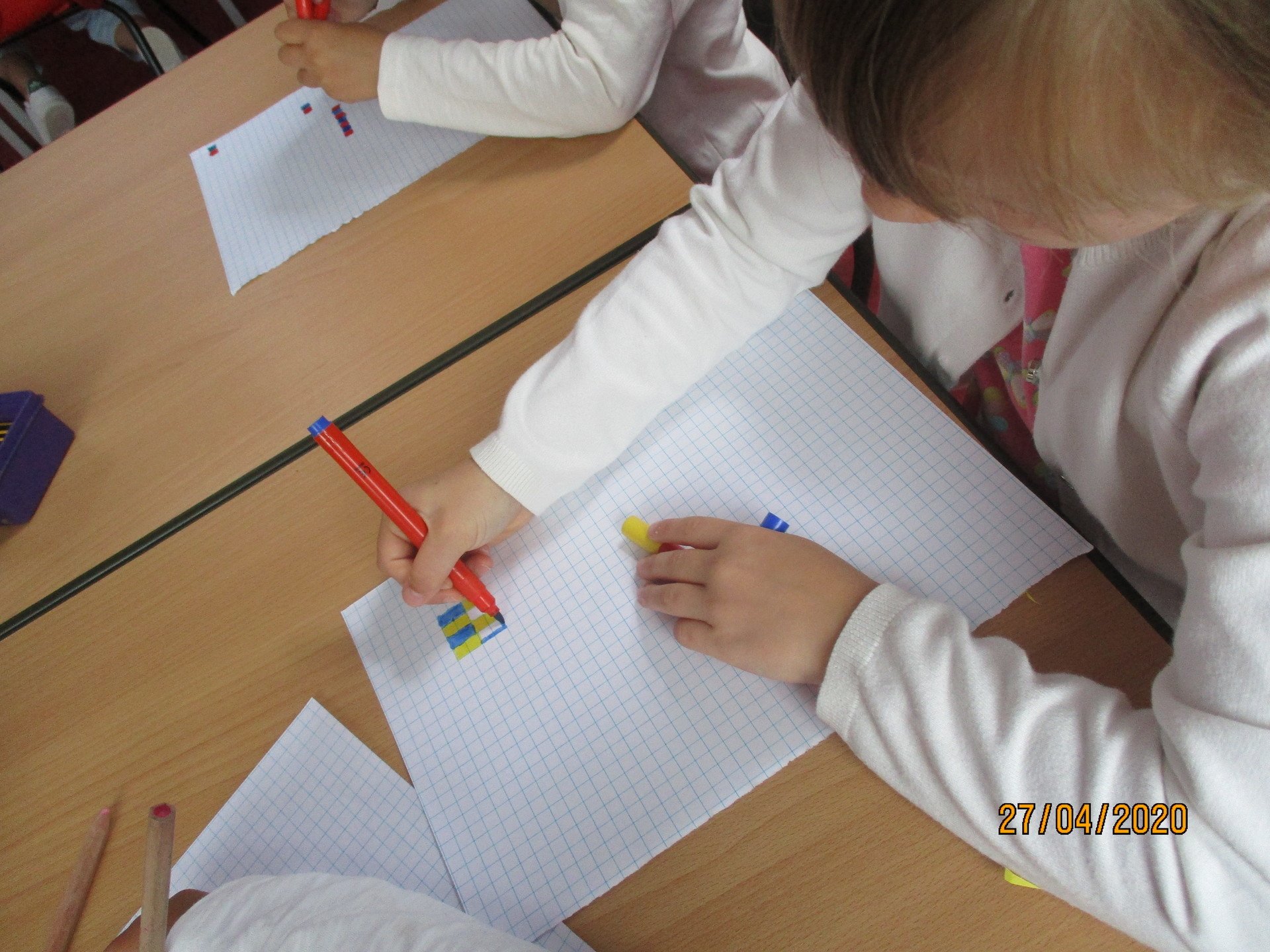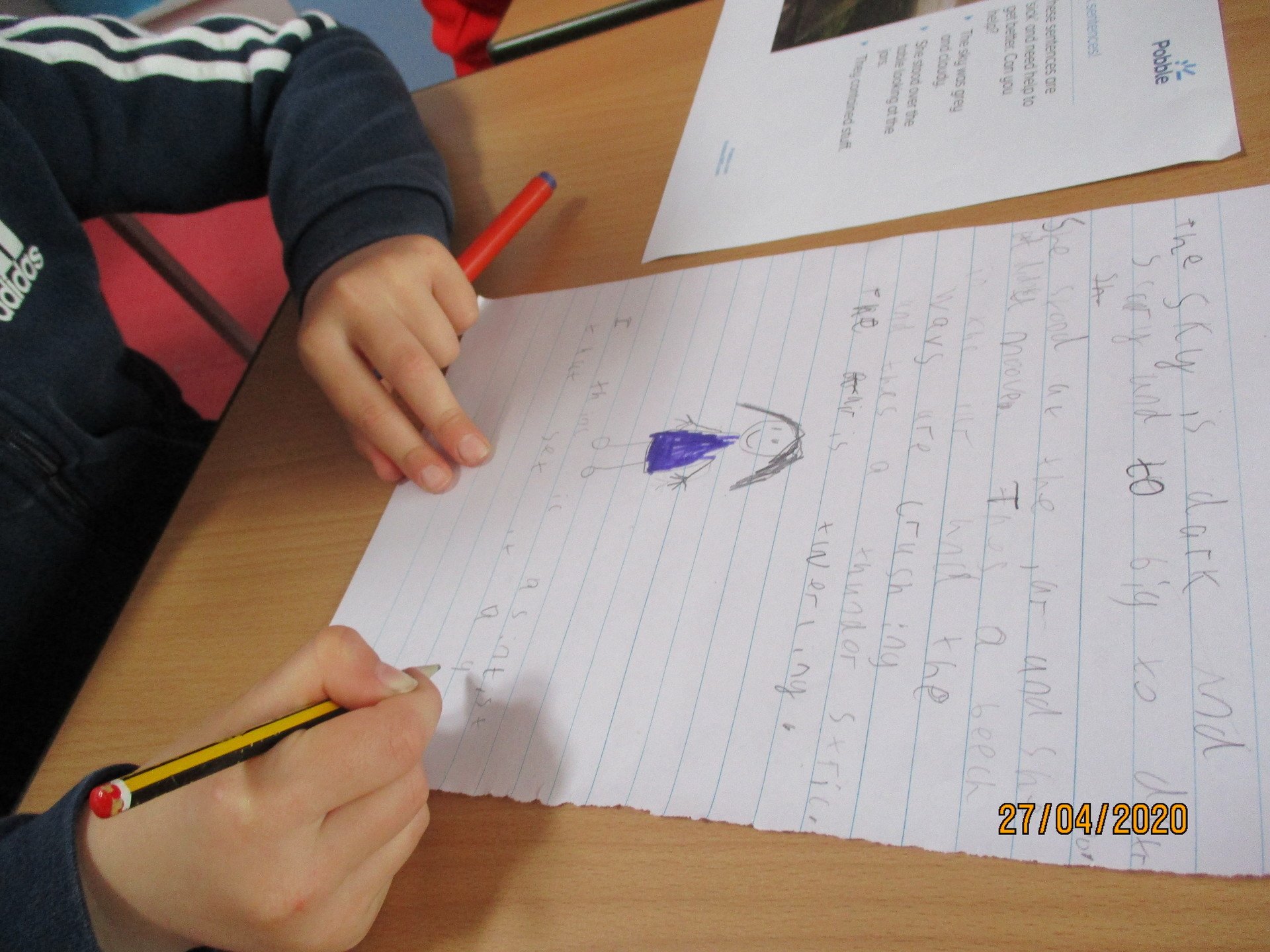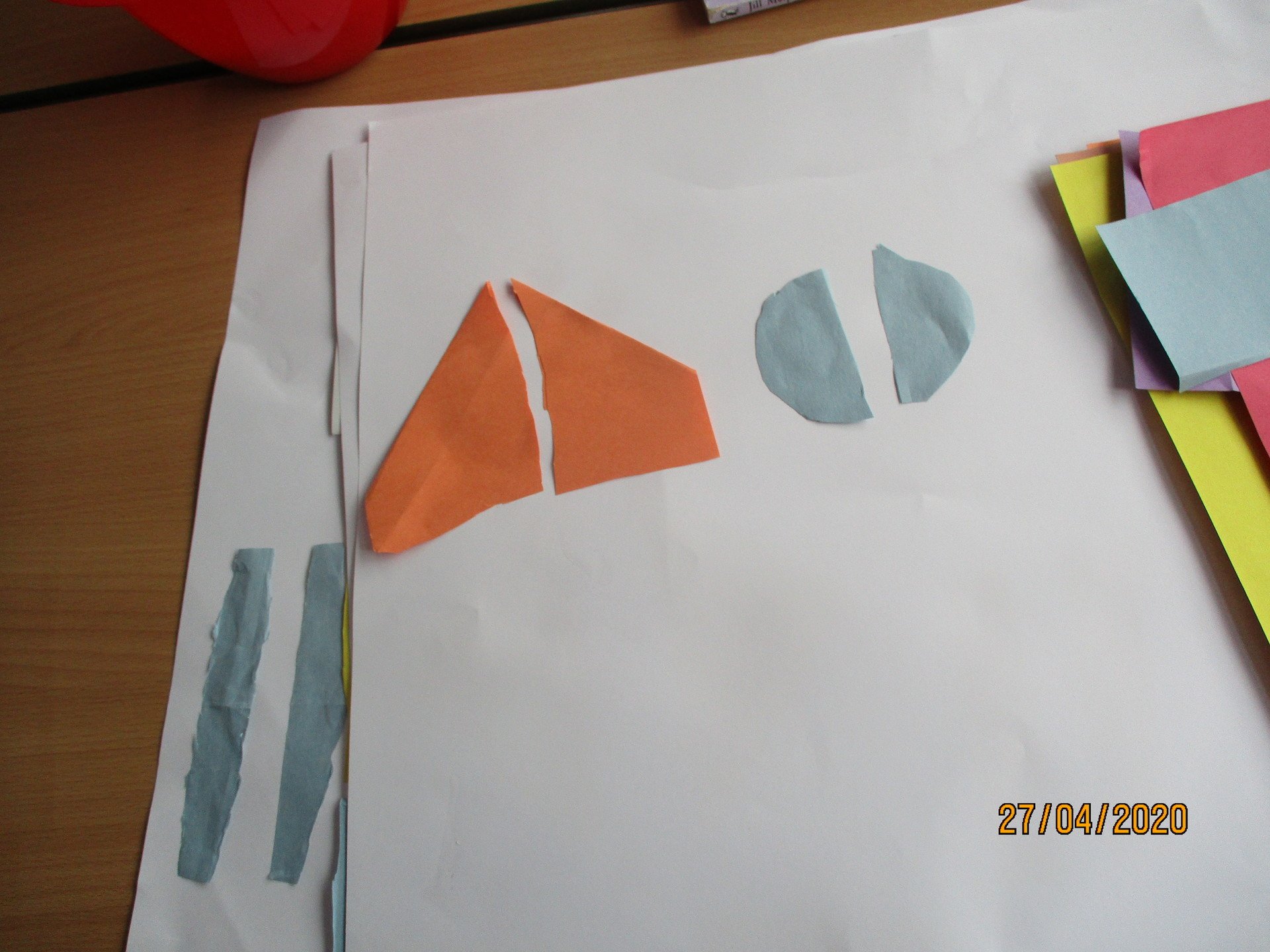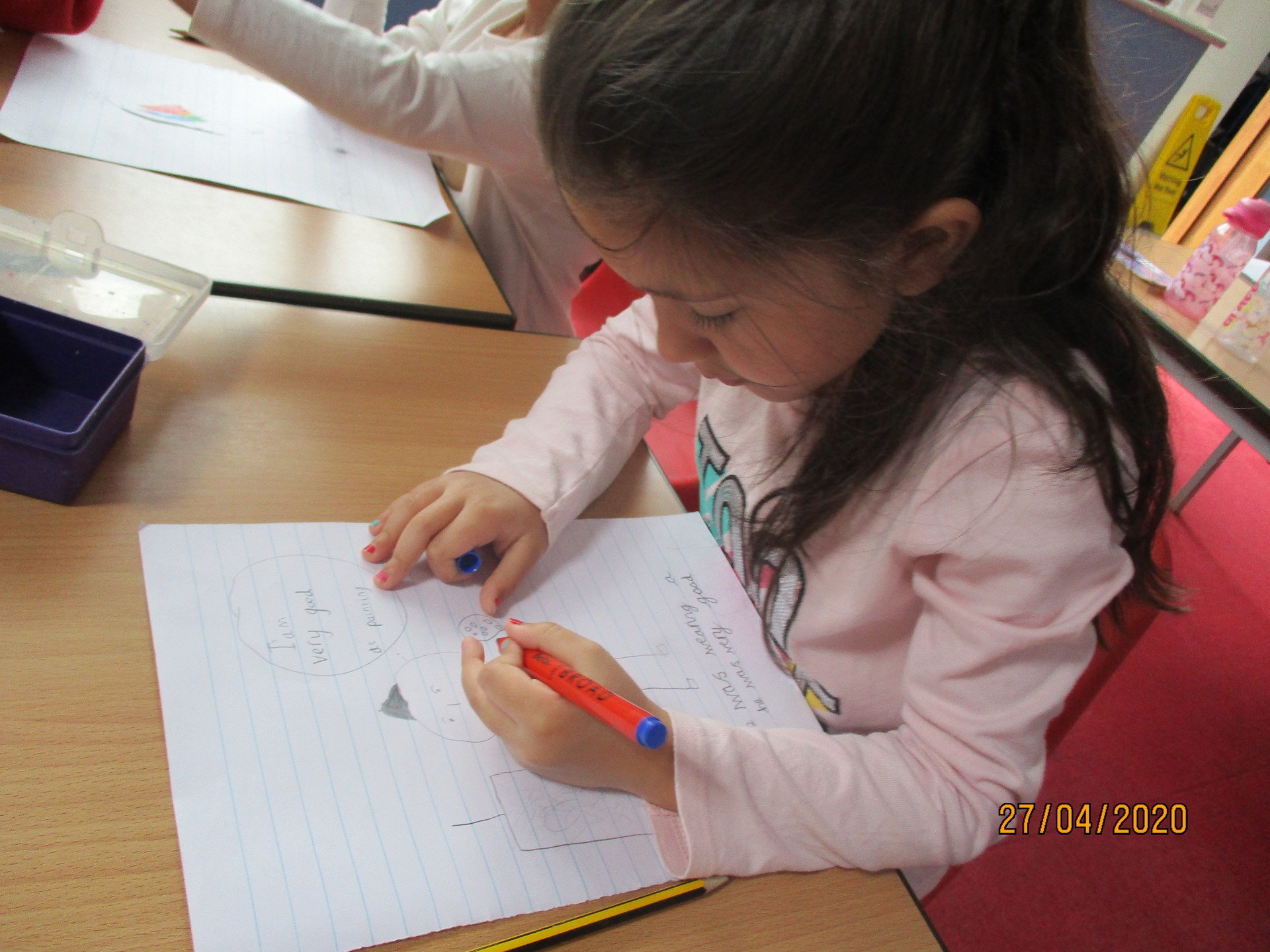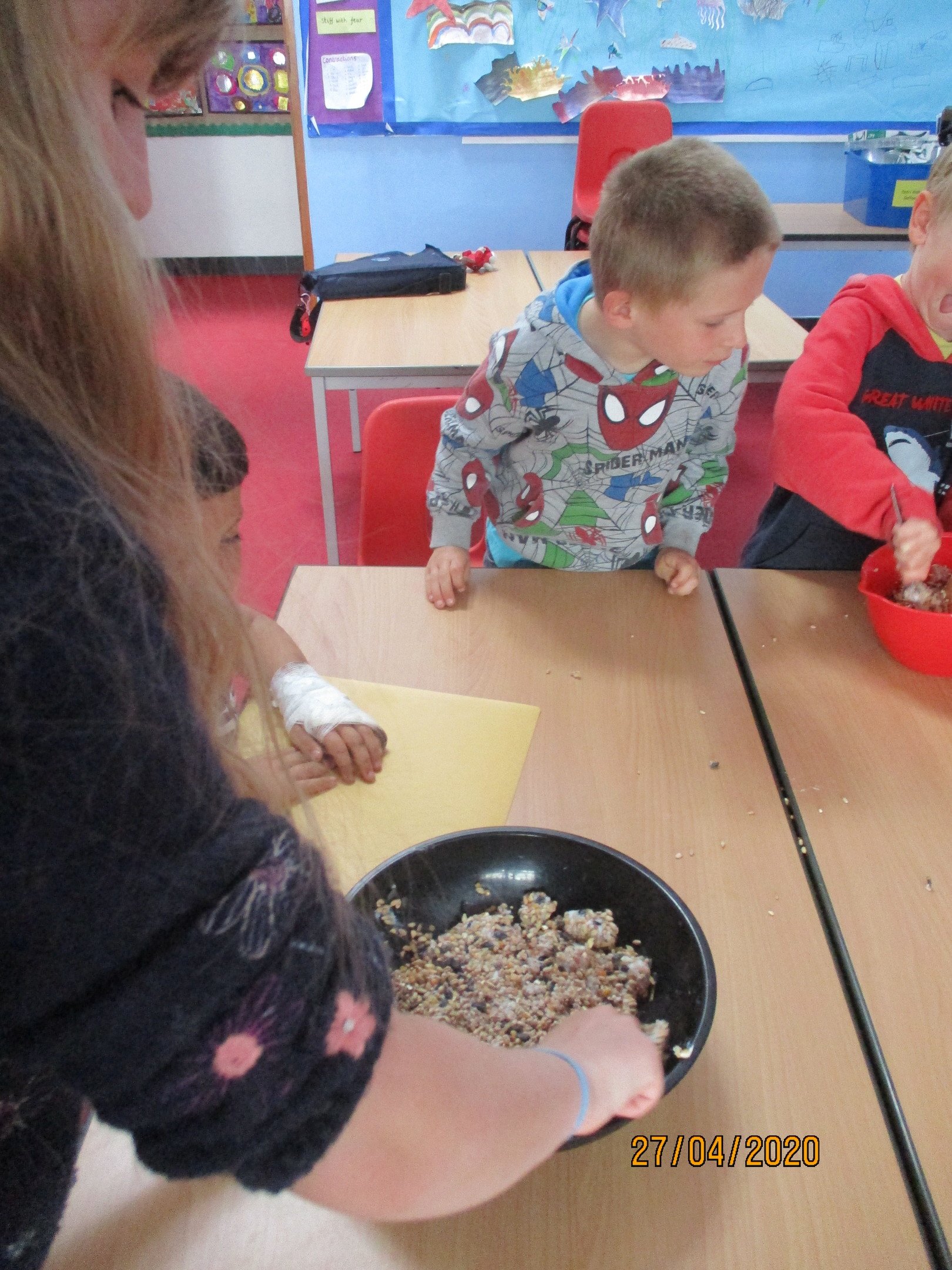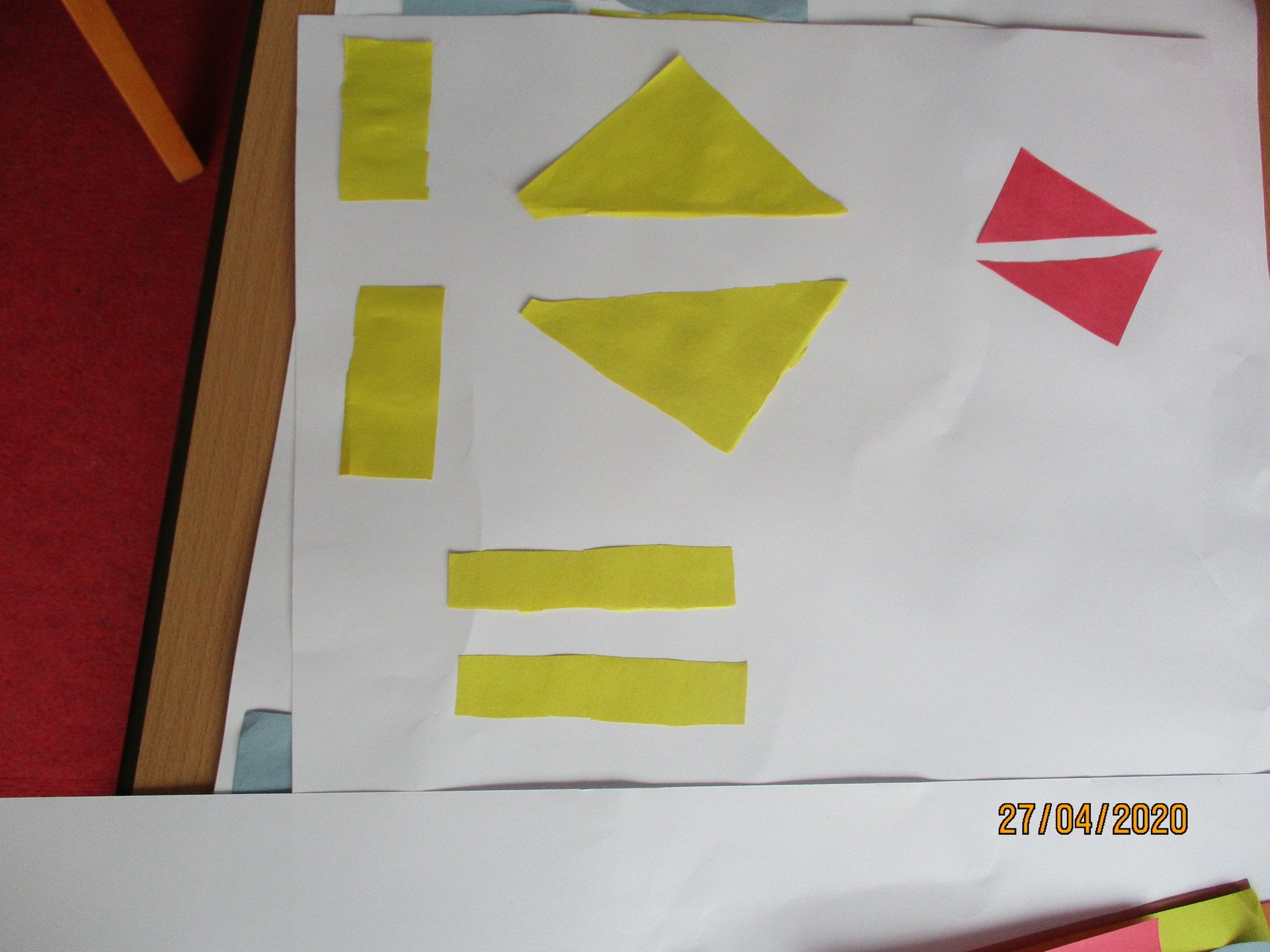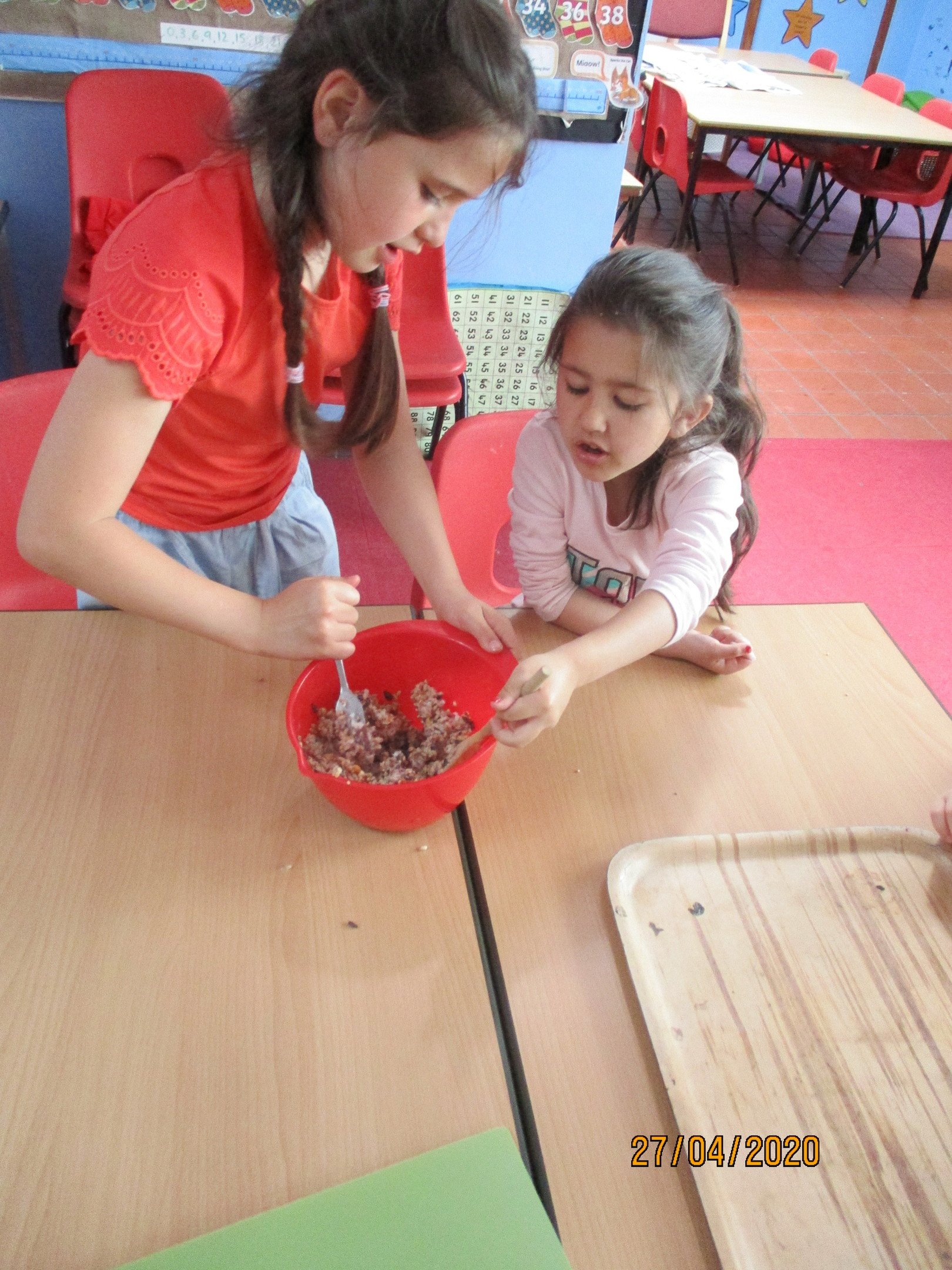 Friday 24th April
Today was a hot day! We started the day with Fancy Dress Friday with Joe Wicks. We had superhero capes, a flying Jasmine and a Rainbow Fairy. Well done for remembering to come in fancy dress. I had misplaced my costume this morning and was told, "Oh, I see you have come as Mrs Sinclair!"
We completed our Maths and English tasks, like everyone at home, and as most of us were Year 2, we wrote short diary entries about our day. Mrs Rose was busy all day moving the library. It is now in a different room! You will have to search for it when you come back to school. There is quite a lot of sorting of books to do now but that will happen next week. At the moment, all the books are in mountainous piles!
Zena made us another buffet lunch with fruit salad and jellies for pudding. Then we spent some time on the field.
We decided what we wanted to do this afternoon and chose a play in the Bluebell garden and some mindfulness colouring. We had a visit from one of our children who was cycling past on their daily exercise. So we all had a chat through the fence. Nice to see you, Zac!
Have a lovely weekend all of you and stay safe.
Thursday 23rd April
Hello everyone! We have had a busy day here with mrs Sinclair and Mrs Becker.
We started the day with Joe Wicks and Mrs Becker joined us. It was hard today because he tossed a coin to see if it was a hard exercise or an easy one. We kept getting the hard ones!
Next, we worked on our White Rose Maths like the rest of you. Children were wondering around checking what was more or less than a metre, or looking for shapes around the classroom.
We heard two story versions of Baba Yaga after playtime and compared the similarities and differences between them. Children worked as a group to help each other spot the differences. Some of us practised our letter writing too.
Our lunch was a gorgeous platter from Zena. Thank you very much. In the afternoon, we planned a very large poster, thinking about our St Mary's Community and what makes us St Mary's. We then drew and painted it and the finished product is below. Can you see what we think is in our community?
Looking forward to tomorrow...
Wednesday 22nd April
Hello to you all from all of us in school. We hope you have had a good day staying safe at home.
Today started with a story and singing with Mrs Westerwijk. We played outside and did some Cosmic Yoga. We did the Tiny the TRex Yoga and even Mrs Ball managed the poses. After maths it was lunchtime and what a lovely surprise Zena gave us today! Not the usual school sandwiches but a 'make your own lunch' buffet. The children enjoyed choosing the fillings for their sandwiches and there was a choice of vegetable sticks, fruit and pasta salad with a tasty chocolate brownie or jelly for afters. Delicious! Thank you, Zena!
This afternoon we enjoyed some of year 2's favourite poems and in particular Thumb Pots by Michael Rosen. Then we made our own thumb pots from clay and decorated them using the tools. Take a look at the photos and see what you think. Layal did some research about the Mayans and made a Mayan mask tile- doesn't it look fantastic!
Tuesday 21st April
Hello to all of our friends at home. We hope you are all well and enjoying the sunshine. We had quite a busy but nice day today in school. After doing our White Rose Maths lesson, just like you at home, we enjoyed being outside for a sunny playtime. We read an African folk tale called Too Much Talk which is a funny and silly story about talking objects and animals. We made puppets of the characters. Some of us painted and used glue and fabric and some of us sewed sock characters which you can see in the photos from today.
This afternoon we finished the puppets and planted some seeds but we had to make the pots first. Isla soon became an expert at making newspaper pots with the wooden plant pot former. We also put some big bean seeds in water to soak overnight to become soft enough for us to break open and look inside them tomorrow. I wonder what we will find?
Monday 20th April
Seven children were in school today and we had a lovely surprise this morning when Lyn from Bristol Sports arrived. It was another lovely sunny day even though it was a bit windy so there was lots of fun with PE activities outside on the playground and on the field (see the photo below) Lyn also helped the key stage 2 children with their maths learning. It was nice to see some of our friends that we haven't seen for a little while and to fi.nd out how they have been. This afternoon, we started to think about plants and seeds and tomorrow we will plant some seeds and hopefully they will grow into plants that everyone will be able to see.
The Easter Holidays
We have been very busy in the Easter holidays and have been doing lots of exciting activities. We have made flapjacks, Easter cards, Easter baskets and dream catchers. We painted eggs on Good Friday too. We have spent a lot of time enjoying the sunshine and have even planted some flowers and tasty veggies too.
Take a look at our 'Communi-Tree'.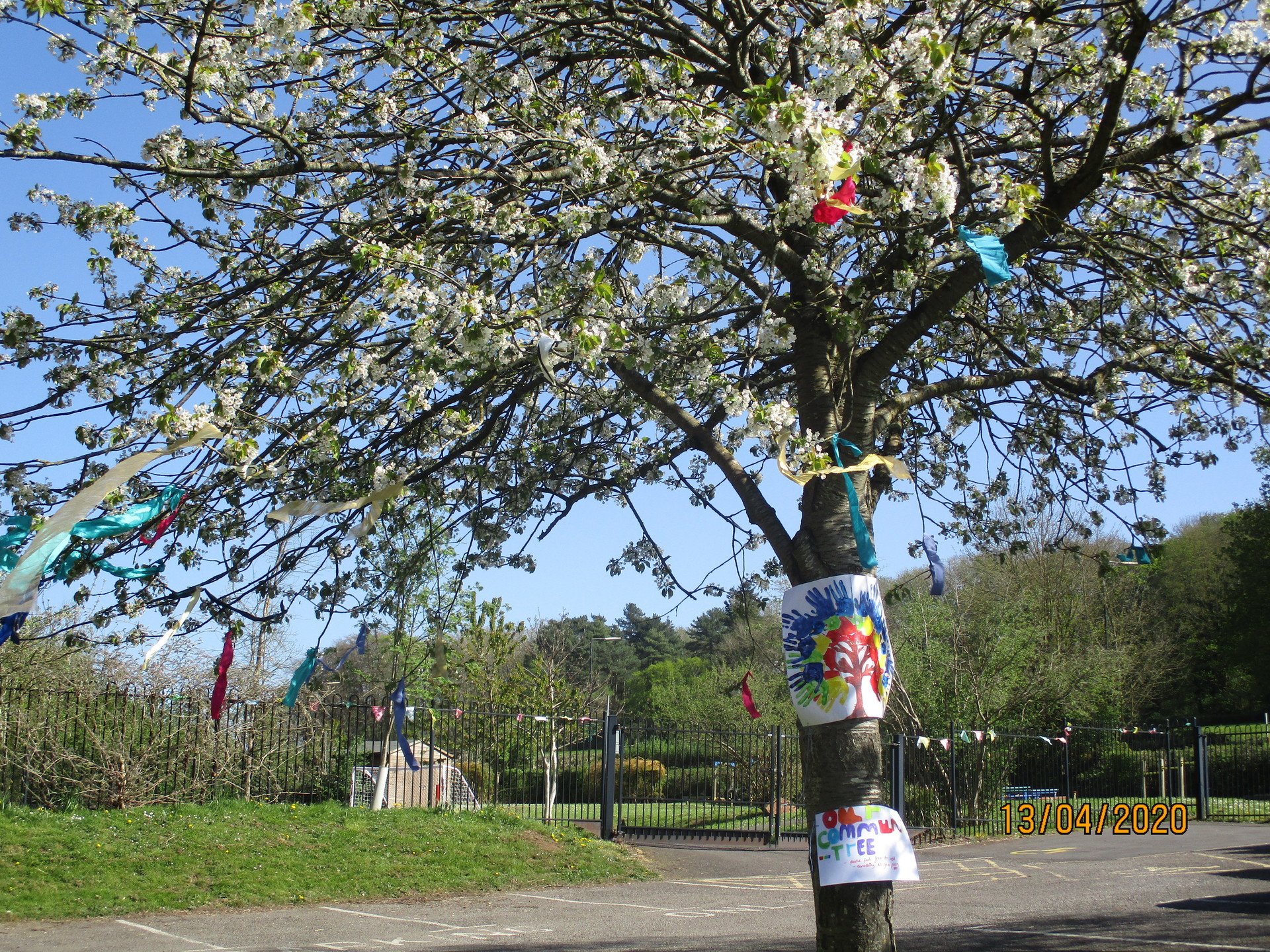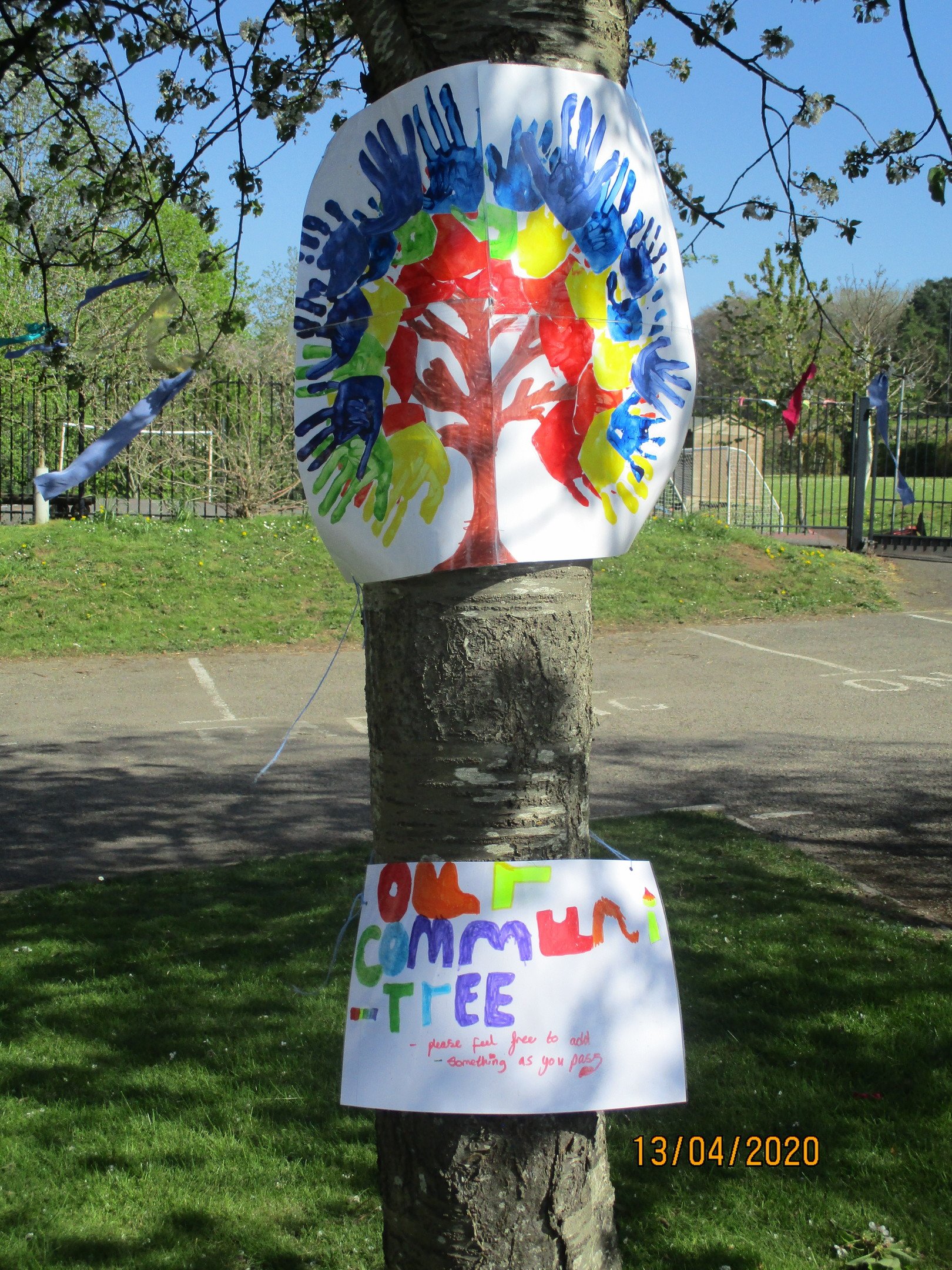 Friday 3rd April
Is been another busy day here! We decided to try something new this morning and had our PE session with Strictly's Oti Mabuse. We had so much fun learning the dance moves to 'The Greatest Showman' and we really want to try the 'Frozen' dance next. If you haven't given this workout a go, just head over to Youtube for all of Oti's dance sessions for children.
This morning we completed our stories and then wrote about all of the things that we are grateful for in our lives. In Maths we challenged ourselves to complete our tasks in a minute. Some we could do, some we discovered that we may need more practice. Our conclusion was... we can always do more than we think possible, and.... we can achieve so much more if we work together as a team. Many of our tasks we couldn't do in a minute alone, but as a team we could easily achieve our goals together!
This afternoon we have been busy painting our salt dough hearts and decorating our eggs further. We then moved on to finding out the true meaning of Easter. Why do we have Easter eggs? How can we celebrate? We headed over to the Conservation area in the sunshine to make our Easter gardens or fairy gardens. Look at our pictures below for some ideas if you fancy making one over the Easter break too.
Mrs Cope has had lots of fun this week, wishing you all a lovely weekend. Stay safe and take care.
Thursday 2nd April
What a busy and creative day!
Mrs Cope joined us today for a jam- packed day. We started our day by writing up our robot stories using our storyboards, ready to edit and illustrate tomorrow. We looked carefully at exciting vocabulary that we could use and some impressive punctuation.
We then used our Maths session to investigate time. We reminded ourselves of how we use a clock and looked at different lengths of time. We then set ourselves a challenge of finding out what we could do in one minute and used these to set some new targets to investigate tomorrow. We discussed how we would ensure our investigation was fair, what we would use to time ourselves, and how different children may get different results. We have all made predictions so will see how quick we are at these activities in the morning!
This afternoon we got very messy! We designed and painted our Paper Mache Easter eggs and then moved on to making some salt dough together. We have made them in a heart shaped design as a symbol of compassion and we will decorate and write messages of compassion on them tomorrow.
We have had lots of fun together and are looking forward to more of the same tomorrow!
Wednesday 1st April
Well that's half of the week gone already! And that is it from Mrs Speed...for now.
Today we planned our own story in the form of a story map, based on a robot. Max very kindly brought in and shared with us a wonderful robot that he had made last night. Cheetah now has a temporary home in the school foyer.
Maths continued with another unifix estimation investigation following a question someone asked yesterday: 'How many cubes will fit in the square on the carpet?' We found out that there are 25 cubes along 1 side of the square. Simran said "we could work out the number 25 times 25". Lola used grid method multiplication to work this out. We found that 25 rows would not fit in our square, so we took away 25 from Lola's answer. There were 600 cubes on 1 carpet tile!
This afternoon we added a few more layers to our Paper Mache Easter eggs ready to paint later in the week. We wrote a 'wish' jar, thinking about all of the things that we wish we could do at this time but sadly cannot. You probably have things that are the same if you made a 'wish' jar.
I will miss the children over the next few weeks and hope everyone is staying safe and well.
Tuesday 31st March
Today we had a quieter morning (after a sweaty PE lesson with Joe Wicks). We finished off our poems that we started yesterday and published these (see the photos below).
Together we explored a Maths investigation: 'How many unifix can you fit in your hand?'. We had to estimate the number of cubes we could hold in our hand, without dropping any or fixing them together. Once we recorded this in a table, we found out the total number of unifix we could hold. See the photos for our results.
We went litter picking with Mrs Westerwijk after a relaxing lunch, including stories.
This afternoon we got messy! We made a start on making 3D Easter eggs using Paper Mache: PVA glue and water mix and small strips of newspaper. We might have to wait a few days before we can do the next part of creating our Easter eggs as some of them are dripping still!
We finished off the afternoon with a Cosmic Yoga routine and Max shared some Space facts with us.
Monday 30th March
We hope you had a lovely weekend and are well.
Where has the day gone?! We have had so much fun being active in different ways today. We started our day with Joe Wicks PE lesson, before playing different games with Lynne from Bristol Sport. We also created a silly surprise that Lynne hopes to share soon.
Today we had a look at poetry tasks that have been suggested on our class pages linked to Easter eggs and Dracula. We will publish these tomorrow. Remember that Sean the poet is waiting for your poems that he will read out (see Mrs Westerwijk's 2nd challenge on the Events page).
We spent most of the afternoon in the conservation area finding, gathering and then creating a natural picture in the style of Andy Goldsworthy. We then painted our clay animals that we made with Mrs Sinclair last week and for those who did not make them, created an animal today.
Mrs Speed is looking forward to another fun filled day tomorrow.
Stay safe and see you soon.
Friday 27th March
Another lovely day here at St Mary's. What have you all been doing today? Don't forget to let your teacher's know what you have been up to. If you have any photos, email them to us and we can add them onto your class pages.
Today, the children began with a Joe Wicks PE lesson. We followed yesterday's lesson when his daughter joined him! When we had recovered, we all did a measuring activity in the classroom, practising adding numbers. After that, we all sent a postcard to our teachers, telling them what we had been up to at school.
Zena cooked us all fish and chips for lunch - yum! The lunch hall was very quiet. Lovely!
In the afternoon, we went to the Conservation Area and did some watercolour painting and made some nature hats to see if we could camouflage ourselves.
We finished the day with a story before going home for the weekend.
Take care, everyone, and to anyone coming in next week, see you then.
Thursday 26th March
Today is another beautiful day! Mrs Sinclair is now at school with Mrs Westerwijk and we are enjoying the outside space. It is very strange not having you all here with us and we hope you are enjoying time at home too. We miss you all.
We have explored the Conservation Area, looking for natural objects to make a mobile to hang in school or at home. (Someone got very excited when I said we were making a "mobile" - and was a bit disappointed to find out it wasn't a phone!) Perhaps you could make a natural hanging mobile for your house or garden.
We then made some clay pets after reading a story Conygar have read, called Sparky.
In the afternoon, we had to complete the "Egg Challenge" - find a way of protecting an egg when it is dropped from the top of the climbing frame. Out of 5 protected eggs, only one smashed. Good design work, team! Have a try at home if you have a spare egg, but no hard boiling - that's cheating!!
Looking forward to tomorrow.
Wednesday 25th March
Hello to all our friends at home. A small group of us have enjoyed another lovely spring day. We have had lots of outside time drawing, plogging (tidying up the environment while exercising!) and playing but we also spent time inside singing around the piano, doing Cosmic Yoga, finishing some sewing and writing you letters, which you can read below.
If you live in the village you might walk past the school when taking your exercise. If you do walk by, look at the conservatory windows and see the rainbows that we send to you as a message of hope that we will all safely get back to normal life in the not too distant future.
Tuesday 24th March
What a gorgeous spring day it has been! We hope that you have all been able to enjoy being outside, taking some exercise and just enjoying the sunshine and nature around us.
The children who were with us in school today have enjoyed lots of outside activities but we are missing all of our friends. We painted rainbows in the playground and did a spring scavenger hunt in the conservation area. Zena cooked a delicious school lunch and all the children made chocolate crispy cakes with Mrs Westerwijk.
Take a look at some photos from today including our rainbows. Perhaps you could make a rainbow and put it in a window at home or send a photo to Mrs Ball to put on the website. annette.ball@stmarysprimaryportbury.org
Monday 23rd March
Hello to all our friends.
We hope you are all well. Those of us who were in school today sang our school anthem and thought of our school community who are learning and working at home.
We made hearts of different kinds to show that our thoughts and good wishes are with all the community. As it was such a beautiful day today, we spent lots of time outdoors. We even went onto the field at lunchtime and some of us made daisy chains. We enjoyed playing hide and seek with a twist with Lyn from Bristol Sports. There were some brilliant hiders and runners.